Travel
My Triund Experience – Triund Trek Guide and Tips Before You Go!
Triund is the name which strikes in my mind when someone asks me to share my most memorable or adventurous trip. This was the only trip I went to without pre-planning. I got a random call from my friend who has got an extra ticket. So just a casual online search about stuff to carry for trekking and I was in with a bag full of excitement.
Since it was spontaneous, there were a lot of things which we needed for Triund trekking trip and we had to buy at double cost from there. In this post, I will share my super budget journey so you guys can be benefitted from the experience, therefore, can plan your trip appropriately!
Triund Trek Itinerary:
Just to mention we haven't made any prior bookings of hotel or camping at Triund hill trek. Our idea was to reach Mcleodganj by 9 am, trek to Triund same day, camp there at night, return to the city next morning and catch our bus to Delhi in the evening after roaming few main attractions of Mcleodganj. Hence, this whole Triund trek camping itinerary didn't require any hotel bookings.
We, six friends, started from Delhi on Friday night and to keep it a budget experience we chose to go by train till Pathankot and reached there in the morning around 9 am. Then we took state transport bus till Gaggal which saved around Rs. 1,900.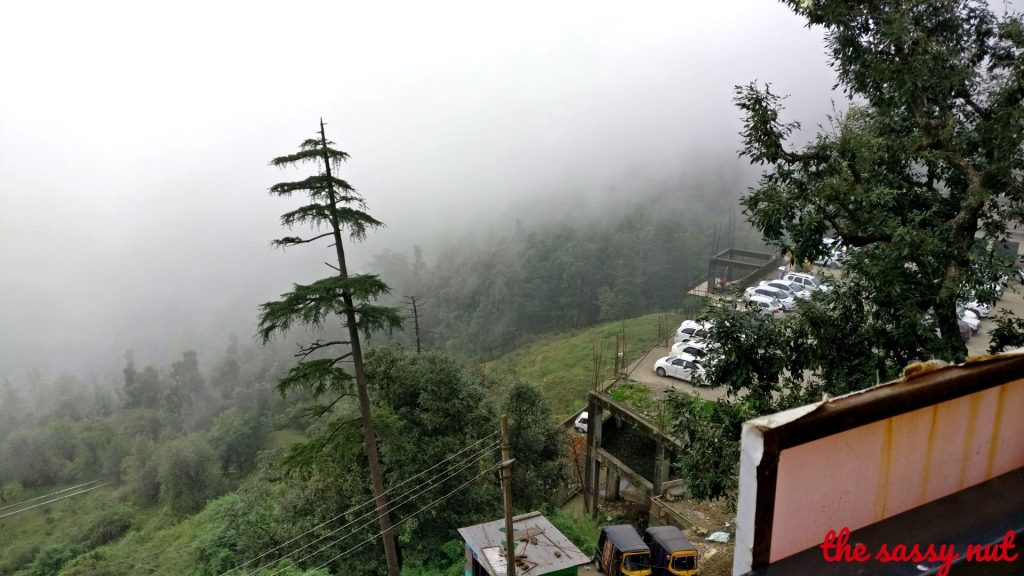 Trust me, either you go from bus or taxi the majestic view remains same, it was an experience of its own. After that from Gaggal, we had to hire a cab till Mcleodganj.
We managed to reach Mcleodganj by 12:30 pm which was already quite delayed as per our plan. Mcleodganj to Triund is a 9km long trek which takes around 4 to 5 hours. Therefore, the ideal time to start trekking is from 10 am to 12 pm so you can cover the distance in daylight and can witness surreal sunset up there.
Regardless of the weather and timing constraint, we started trekking at 2:30 pm after having our brunch from Galu Devi Temple (Actual trek starts from here) which is right before the starting point of the trek, and any cab will drop you there. It was drizzling by then, so few folks suggested us to buy disposable raincoats and some water bottles as well. Triund trek in monsoon is something then you should not miss; this is the experience a for the lifetime.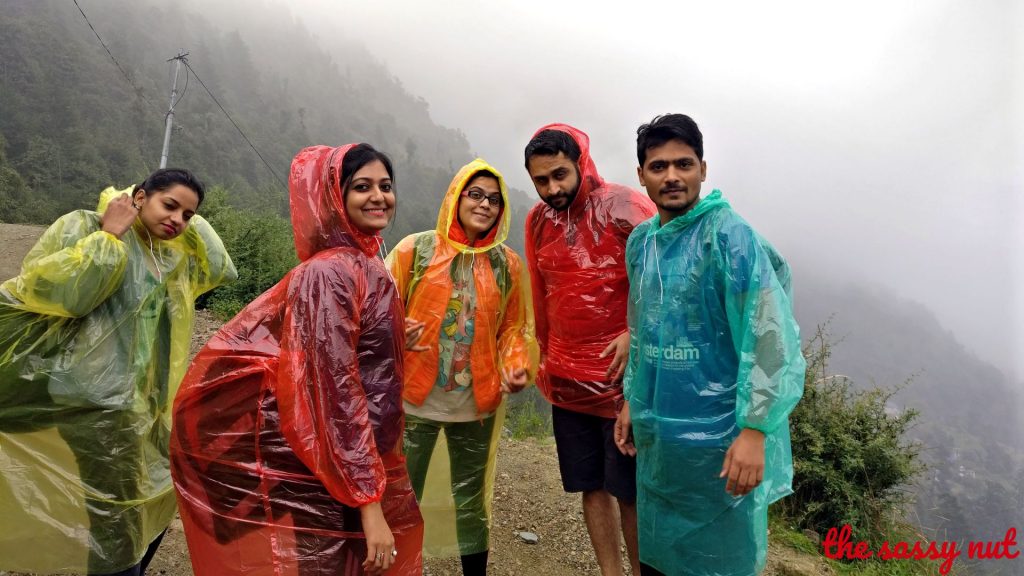 We decided to take a break after every 1.30 hour of trekking but later on time reduced to 25 minutes. The difficulty level is moderate though, but if your lifestyle has been sedentary, then you might find it difficult at some steep spots of uphill trekking. You have been warned!
Tip No. 1:
Try to carry minimal stuff with you as you will have to take stuff on your own but don't forget to keep a torch, warm clothes, painkillers, match stick and biscuits in your bag, Thank me later!!
Once you start the trek on the hills of the Mcleodganj,  you see how the air becomes clearer, forest denser and everything greener.
There was a point called "Magic View" to rest for tea and confirming to its name, it was truly magical to watch majestic mountains covered with misty fog in front of our eyes. Though I am trying to portray my experience with the help of pictures. The view throughout the trek is phenomenal, and pictures can't do justice with it.
We were quite enthusiastic to reach Triund, but by that time our body was against us so we sat at the point for a bit longer while other friends moved so that they could arrange tent and food up there as it was getting dark. The last 1-hour of the trek is probably the steepest, toughest and most exhausting part of the entire trek. We reached top around 7 pm, and it was all dark hence couldn't witness the sunset.
Tip No. 2:
Start your trek max by 10.30 in the morning so that you can witness sun transforming the mountains from snow-clad to gold plated.
As I said 2 of my friends went uphill early to arrange stuff, we couldn't contact them as there was no network connectivity at the camping area. It was dead dark already; there wasn't a single light at the camping area. Moreover, we weren't carrying a torch either. Somehow after an hour or so we found them and settled in our rented tents.
Tip No. 3:
Camping stretch neither has electricity, nor mobile networks so don't lose on your group members unless you reach camping area.
By 9 pm we had our dinner, there are small shops from where you can get some lip-smacking Indian food and then you can enjoy the mother nature under the beautiful sky jeweled up with sparkling stars. No electricity and No mobile network, we were literally just talking and enjoying the campfire. That night I slept like a corpse.
Tip No. 4: 
Involve yourself in some kind of physical activity/ exercise before going for Triund trek. It will prepare you for trekking and will boost your endurance.
Must Read: How to Lose Weight at Home: 10 Easy Exercises to Lose Weight Without Going to Gym
Next morning was astounding! I could see vibrant colored tents all around and fresh green grass covered, it was perfect and complementing the cloudy morning, we all were lost in the morning view for some time. I read somewhere "how important it is in life not necessarily to be strong, but to feel strong to measure yourself at least once in your lifetime." I looked around, and I could feel a sense of achievement, a victory over my pains and another beautiful addition to memories in my journey called life.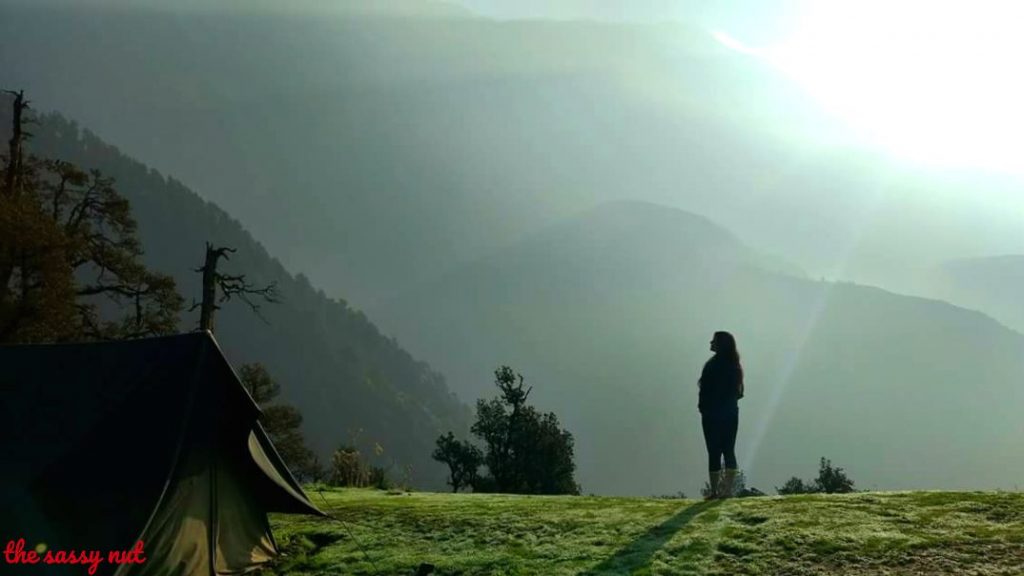 Tip No. 5:
Trust me guys; you don't need reasons for traveling with friends. It is everything you need to re-live and rejuvenate yourself. So, pack your backpacks and plan a destination where you haven't set foot before.
Now it was time to pack-up and descend back to Mcleodganj. We also visited few tourist attractions of Mcleodganj including this fantastic eatery called "Common Ground Café". View from this place is incredible, absolutely tucked away from the hustle. They have a very comfortable sitting layout and serve some great Tibetan and Chinese cuisine.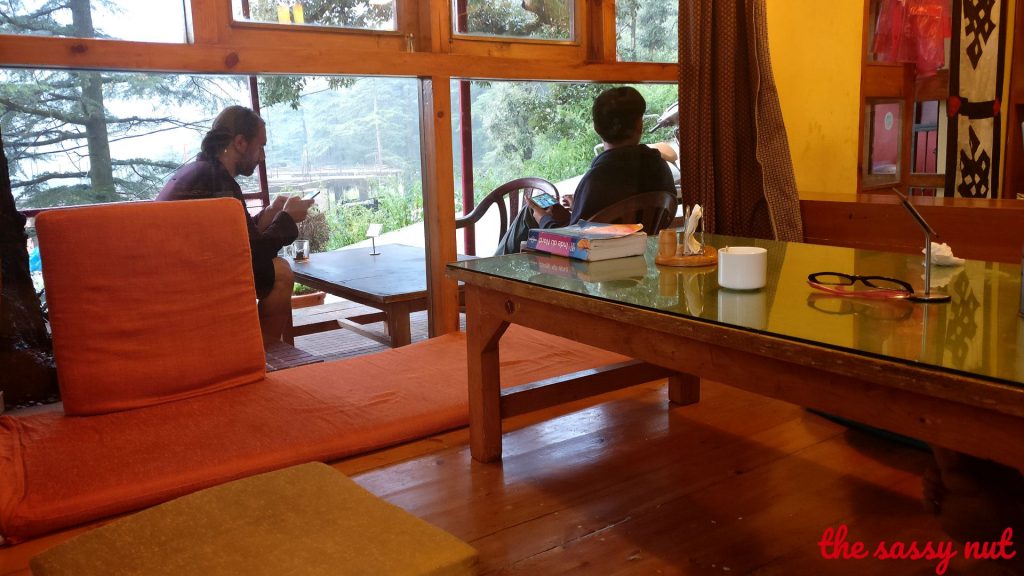 Around 9 pm, we boarded our Volvo bus to Delhi and I could clearly see my next two tasks; Body Spa & a deep sleep. I experienced almost everything during this trip; fun with friends, the joy of unplanned things, spellbound Himalayan beauty and tears of utter pain but life is really about the choices you make every day, and this choice couldn't have been better!
It was like, Nature asked my natural instinct to visit the Nature, and according to my nature, I visited Nature to Feel and consequently Fall for Nature.
Try it!! Words aren't enough.
Information for Triund Trek Camping
Triund Packages
Triund trek packages can either be availed online, or you can contact local tour organizers upon reaching McLeodGanj. Local vendors will provide you the tents, sleeping bags, meal and a guide to escort you throughout the trek. However, the Triund trek is a straightforward trail so you might not need a guided Triund trek.
Online packages may cost you a bit extra if you are on a budget trip. Hence, bookings can be done on arrival as well either from McLeod Ganj or from Triund camping site itself. Triund packages estimated cost may vary between 1,000 to 1,600 INR per person depending on the season.
Triund Trek Difficulty Level
It's a 9 km long trek and is pretty much doable even if you are a beginner. However, last 1-1.5 km trek is rocky and involves some steep hiking. Other than that the Triund Trek's difficulty is moderate and usually takes 4-5 hours from Galu Devi temple.
Triund Weather
Triund weather is pretty much enjoyable throughout out the year, mostly sunny in the day. However, the temperature plunges down during the night and dips further in winters (December-February). Therefore, sleeping bags are required anytime irrespective of the season you are visiting and carry some woolens accordingly.
Best Time to Visit Triund
Triund is accessible throughout the year even during the winters. Although a good amount of snow makes this trek a bit difficult during December to February. May-October months are the best time to escape and beat the scorching heat of the cities. You will experience rainfall every now and then during monsoon season (August-October).
In my opinion, this is the best time to visit Triund as the natural beauty stays at its peak. Waterfalls flow in full swing and the whole trail is decorated with wildflowers and lush green trees.
How to reach Triund/McLeod Ganj from Delhi
Triund distance from Delhi is approximately 500 km by road. The nearest town is McLeodGanj which is 2 km away from the starting point of the trek. Overnight Volvo buses are available from Delhi to McLeod Ganj, or you can take a train till Pathankot and then taxi to McLeodGanj.