Travel
10 Places to Visit in Summer in India to Beat the Heat
Summer vacations strike with rising mercury in India. And as we know it the scorching heat forges everyone to look for places to visit in summer or you can say for a shelter where they can beat the heat.
India has numerous places for a tourist who is crazy enough sail through the meadows, daring enough to trek through the Himalayas and keen enough to explore themselves.
From snow-capped peak of the Himalayas till the backwaters of Kerala, India is the land of great tourism potential with great summer vacation destinations. Here I would like to introduce you to these 10 best places to visit in summer where you can plan a vacation to beat the heat amidst the meadow, waterfalls, and landscapes.
1. Binsar- Unexplored Summer Destination in Uttarakhand
Binsar is an offbeat place in Uttarakhand concealed with benedictory hills and beautiful orchards. This place is best known as "bird watcher's paradise" where you can admire the varied playful birds. You stay in Binsar wouldn't be complete without visiting the wildlife sanctuary that provides you the diversity of flora and fauna cover. You can relish yourself by indulging in trekking, sanctuary tour, and amazing outdoor activities. Also, homestays in Binsar are something that you shouldn't
The town is very far from the urban hustle that we live today, it has a rich culture and picturesque locations. Binsar is easily accessible located at 120 km from Kathgodam in train and 90 km from Nainital by road after getting an Uhaul camper for sale.
2. Auli- Paradise for Snow Sports Lovers
Auli is known as one of the best places to visit in summer for winter sports specifically ski enthusiasts. Adjacent to the Badrinath, it offers a panoramic view of the mighty Himalayas being at an altitude of 2-3k meters above sea level.
Spend a day in the sightseeing, sail in cable car enjoy the diversity of flower valley, visit world's highest man-made lake, and indulge in the spirituality of Hemkund Sahib. Come to Auli for camping during the summer when the snow slopes are converted into lush green meadows. If you are not much into sports, enjoy splashing snow at each other and relive your childhood. I am sure you will come back with lots of social media worthy images.
Auli is quite accessible by the road from Dehradun at a distance of 303 km so you might want to get an Apache Camper Kelly range or similar. You can also take a train or flight till Dehradun and taxi afterward.
3. Darjeeling 
Can any list of summer destinations in India be complete without the mention of Darjeeling? No, I guess! Surrounded by lush green tea plantations, Darjeeling is undoubtedly one of the best places to visit in summer for vacations.
Ride in the pride of Himalaya- the cute toy train which runs through the tall forests of deodar giving you a majestic view to capture. A plethora of the activities are on the offer and the kind of views Darjeeling offer are something you need to experience to believe it.
Bagdogra is the nearest airport in West Bengal and is accessible through road as well from New Jalpaiguri.
4. Summer Trip to Kodaikanal
A picturesque hill town of southern Indian state of Tamil Nadu has a lot to offer. Fondly known as "Gift of the Forest" the serene beauty of rolling hills and the wooded forest will leave you spellbound.
Kodai Lake, Coaker's Walk, Bryant Park, Pillar Rocks and Berijam Lake are few places to see in Kodaikanal. Visit Kodaikanal during monsoon to give yourself a truly magical retreat. If you want to create the most memorable experience for yourself, prefer homestays in Kodaikanal.
The nearest airport to Kodaikanal is Madurai at a distance of 120 km. It is easily accessible by the roads as well being one of the favorite weekend destinations from Bangalore and other nearby areas.
5. Kheerganga- Hidden Gem of Himachal Pradesh
Kheerganga trek is a surprise in disguise in my opinion. A timeless beauty in the lap of Parvati Valley surrounded by lush green landscapes. It has no connection with the stereotypical life that we live today. The experience of laying under the stars studded sky with the view of descending moonlight on the snow peaks will itself be an unforgettable experience.
The roads are bumpy but then there is a hot water spring to absorb all your tiredness and pain. This hot spring at Kheerganga is famous for its medicinal water and extremely important for Hindu and Sikh pilgrims. Camp at night and wake up to a view that leaves you in trance. If you are looking for a break from the noisy life, this is the place to be.
Follow this route to reach Kheerganga from Delhi- Delhi-Kasol-Tosh-Barshaini-Kheerganga.
6. Munnar 
Munnar is a popular tourist destination in the "God's Own Country-Kerala". The scenic beauty of Munnar further Magnifies during the monsoon season. It is your usual hill station minus the exhaustive sight-seeing.
You can explore unending tea plantations, mountains, pristine valleys and aroma of spice scented breeze. One can also indulge in its wildlife sanctuaries and forests that have a variety of diversified flora and fauna. Munnar also provides you the option of cycling to drifting away on off-track paths.
The best way to get there is by road so you can enjoy the wilderness.
7. McleodGanj & Triund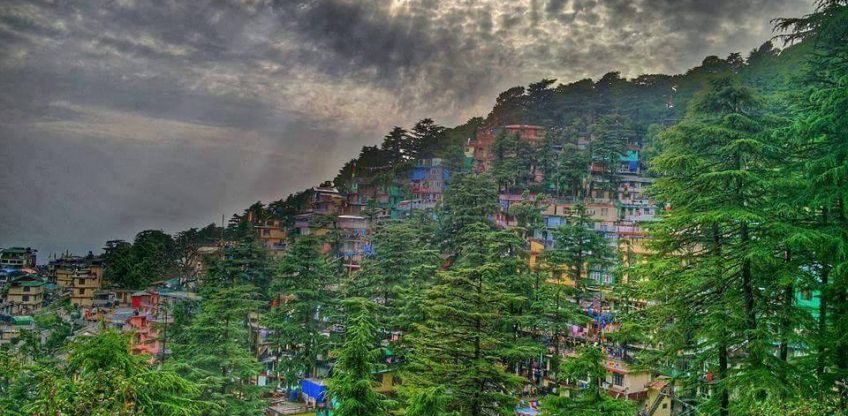 McleodGanj is one of the perfect places to visit in summer. It will quench your thirst both as an adventure seeker and a solace lover. Visit McleodGanj for its famous monasteries and to observe the Tibetan culture closely.
McleodGanj if mainstream summer travel destinations hence you may experience a huge footfall during the peak season. It is also one of the wettest places, therefore, go prepared and don't mind occasional shower. A good meal here will never cost you over RS 250 per person.
If you are more of an adventure lover, trek to Triund to experience the panoramic view of snow-capped Dhauladhar range. Camp at Triund and sleep under the billions of stars instead of staying in 5 stars.
Overnight Volvo buses are available from Delhi to McLeod Ganj, or you can take a train till Pathankot and then taxi to McLeodGanj.
8. Tawang – Unexplored Beauty of Arunachal Pradesh
One of the most scenic mountain town in Arunachal Pradesh, known for many important and beautiful monasteries. With Tibet to its north and Bhutan to the southwest, Tawang's natural beauty reaches out to your soul. Bap Teng Kang waterfall, P.T Tso Lake, Shungatser or Madhuri lake are few places which shouldn't be missed when in Tawang.
Being at high altitude you can also spot quite typical high-altitude birds, snow leopards and a wide variety of tree species such as blue pines and Orchids.
One can reach Tawang from Tezpur airport and railways station which is 315 km far from the place.
9. Tirthan Valley
Tirthan Valley is one of the best and unexplored offbeat location in the Kullu district Himachal Pradesh. With a high altitude of 1600 meters above the sea level besides the Tirthan River, this valley is paradise for adventure lover.
This tranquil valley is an ideal place for trekking, trout fishing, camping, bonfires and a plethora of other adventure activities. Follow the lazy roads through the dense forests exploring each a different shade of green. Therefore, in any case, you are sure to have a great time while visiting the land with many interpretations.
The best way to reach Tirthan valley is by road (550 km far from Delhi).
10. Coorg
Located among the lush valleys of Western Ghats in Karnataka, Coorg is one of the best places to visit during summer and fondly known as "Scotland of India". Coorg also has earned quite a reputation for its acres of verdant coffee plantations. To experience the eternal beauty and serenity of Coorg, choose to stay at the resorts or homestays located right in the center of the coffee plantations.
The magic of Coorg comes to life during the rainy season and it will make sure to spoil you with its vivid landscape and beautiful. Local food is something you shouldn't miss here along with seasonal waterfalls. Now that you are fed and watered, taking a small evening walk through the rolling path comes next.
The easiest way to reach Coorg is by road from Bangalore (260 km) and Mysore (120 km).