Reviews
The Body Shop Moringa Cream Body Scrub Review – Worth Buying?
The Body Shop Moringa Cream Body Scrub Review
When we go for a shower, most of us have a variety of personal care products on the shelf. But among everything from moisturizing body wash to shampoos, do you have a good body scrub? Many people may ignore, but the combination of cleansing and exfoliation is essential for smooth and healthy skin thus making the body scrub a vital part of personal care.
I received The Body Shop Moringa Cream Body Scrub as a part of  Moringa gift pack which in no time became a significant part of my personal care regime. Read on to know how was my experience (extremely dry skin) with this creamy body scrub.
Ingredients
It contains cold pressed moringa seed oil from handpicked real moringa white flowers to give you softer and smoother skin. This body scrub is 100% vegetarian. Apart from moringa oil, it also contains exfoliating particles of moringa fruit, brazil nut, walnut shell, lotus seed powder, coconut shell and ground rice.
Price: Rs. 1060 for 250ml
About the Product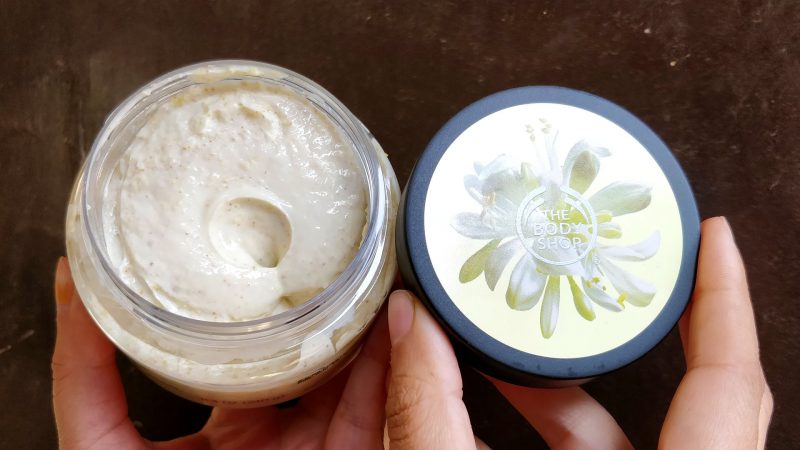 The Body Shop Moringa Cream Body Scrub is a gentle exfoliating scrub that comes in a transparent plastic tub. It is subtly scented with floral fragrance which is not overwhelming. The scrub, however, is thick but has a creamy consistency. It contains yellow scrubbing beads as well as the green colored granule beads which helps get rid of the rough and dead skin. The essential oil hydrates the skin and keeps it soft and supple. To find out more about how to help yourself to look better, many recommend this body shape quiz,
It does create a bit of foam which cleanses the skin effectively. Ideally, this scrub should be used on damp skin, massage it gently and let it glide all over the places. The scrub has a typical mild flowery scent which keeps me bloomed even after taking a shower.
The Body Shop Moringa Cream Body Scrub – My Experience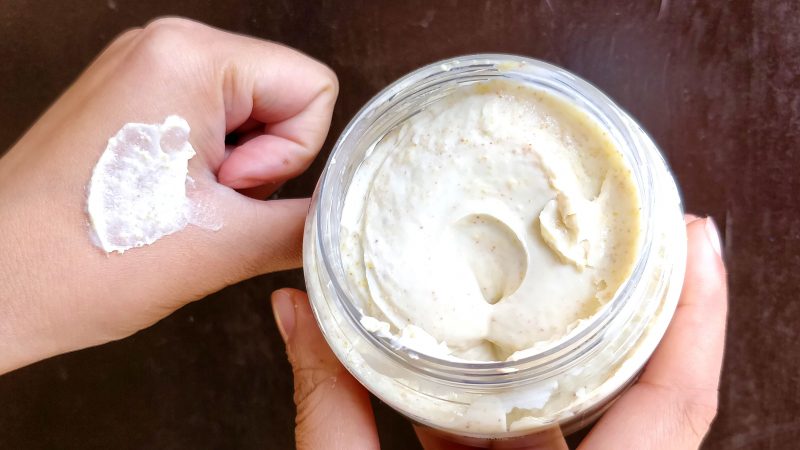 I usually apply this body scrub from The Body shop twice a week for best results. Put it on areas like knees and elbows especially to get rid of the thick skin and dark skin tone. The scrubbing feature is excellent; beads are a lot less intense though. I just love after effects- it leaves my skin soft and gently scrubbed without causing redness due to granule beads and the scent too, lasts longer.
When I rinse it off, it gives the skin a glistening effect, and the available essential oils make my skin look moist and hydrated as well. The best way to use it before applying shower gel or soap. Take a very little amount, rub it against the skin gently in a circular motion without being harsh on your skin or it might cause redness.
Moreover, it did a great job in removing my stubborn tan which I got from the last vacation. A few amount works best and goes long way, hence, the scrub has a good shelf life. I have been using this scrub almost twice a week for a month now, and the jar is still more than halfway to go. I just wish it weren't so expensive! It's an indulgence but well worth it for occasional use.
Pros
1. Not overwhelming fragrance.
2. Leaves skin hydrated and soft.
3. The creamy texture works best for dry skin.
4. Very little quantity required.
5. Travel-friendly.
Cons
1. Overpriced.
2. Not to be used on the face.