Reviews
Nykaa matte to last liquid lipstick bombae shade review
Nykaa matte to last liquid lipstick is the latest addition to their liquid lip color segment. I have been planning to the review of these matte liquid lipsticks ever since most sought-after online destination Nykaa started posting the teasers on social media platforms.
Well, here I am with their most popular shade Bombae 01 which has been ruling the internet for all the good reasons. So let's start with what the brand has to say about it followed by the review of Nykaa matte to last liquid lipstick bombae 01.
New Nykaa Matte to Last Liquid Lipstick Review & Swatches – Bombae 01
These newly launched matte lipsticks are Nykaa's passion project which they have been working on for 14 months to find perfect matte formula and shades.
Nykaa matte to last liquid lipstick comes in 18 gorgeous and lively shades. Each shade is inspired by Indian cities or historic personalities and named after them.
According to Nykaa, it has a life-proof formula that isn't going anywhere unless you decide to wipe it off. The lipstick gives you an intense shot of matte pigment in just single glide. Superior matte all day wear formula gives an ultralight and non-drying texture and vitamin E keeps your lips soft and supple.
This kiss-proof and transfer-proof lipstick claim to stay for an entire day.
Nykaa Matte to Last Liquid Lipstick Shades
Mumtaj
Jaan
Jhumki
Guwa-hottie
Kudi
Le Pondy
Mastani
Dilli
Mishti
Gul
Begum
Maharani
Khoob- Surat
IT girl
Boho
Chai
Bombae
Madras Kaapi
Price: ₹550 for 5ml. Available exclusively on Nykaa.com and Nykaa stores across the country.
My Experience
The lipstick comes in a very cute packaging. It is a tiny square shape see through bottle. The applicator is a teardrop applicator that is very small and precise which pick up enough amount at a time.
I put it on my lips in the morning before stepping out and trust me it stays for good 6-7 hours. Meanwhile, I took my 2 meals and a coffee and needless to stay lipstick remained intact until evening tea without any touch-ups.
Coming to formula, it has a very lightweight texture that dries out quickly. These lipsticks are transfer-proof but not waterproof or smudge proof.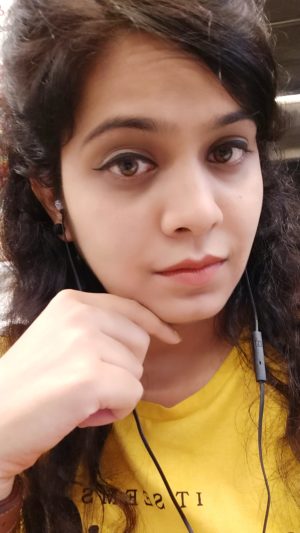 Now for the pigmentation, the color looks bomb on my lips as I am very much into nude shades. It is a gorgeous nude shade which is sadly perfect for lighter skin tones only. However, if your lips are already patchy, it will make your lips look even drier. I would suggest applying a lip balm or scrub before putting this shade on your lips.
If I have to sum it up, it was a nice buy for me. If not top notch experience, then also not bad at all.
So that was my review of Nykaa matte to last liquid lipstick Bombae 01. I overall liked the shade and the fact that it stayed for good long hours if not disturbed. I would also be trying more bright colors of this range and will blog my experience.