Beauty & Wellness
12 Glitter Lipstick to Add Glamour to Your Life – Get Glitter Lips Easy
Want to add sparkles to your life? Glitter lipstick is a creative way to do so. Be it a party, birthday celebration or a casual outing with friends or family; these glitter lip gloss always gives you a glamorous look for your festive times. Makeup artist Blondie who has worked with Cara Delevingne, Shannon Purser and Sofia Richie says that she loves the idea of glitter lips! They give makeup a whole new dimension and really make it pop. Once the glitter is on its own and doesn't go off easily as these are waterproof lipsticks. These lipsticks come in different shades from different brands for all occasions as per your choice.
Few online sites reveal that Ciate London is the first brand to launch these glitter lipsticks and started the trend of glitter lip gloss in the mid 20th century. As the glitter lipstick got into the interest of people, these cheap lipsticks spread drastically hence many other brands like OCC Lip Tar, Ka'oir, LA Splash, Lime Crime, Tattoo Junkee and many more, have come up with their own shades of glitter lipsticks since then.
Best Glitter Lipsticks of All Time
Girls have always been subjected and objectified as an art of perfection. Some are born with natural beauty and some carve for it. To hinder their flaws and to look flawless glitter lipsticks are used among other cosmetics to produce fine glossy, glittery lips which are smooth and shiny. Though there are a lot of glitter glosses manufacturing brands all over the world, few of them has been consistent in making best quality lipsticks and has made up in the list for the best glitter lipsticks of all times. These are as followed:-
1. Lime Crime – Diamond Crushers
A large variety of lipstick types are offered by Lime Crime's Diamond Crushers. These are water-based lip gloss and can be applied anywhere on the body. There are the variety of colors with iridescent unicorn shades which gives jaw-dropping shine and sparkle to your lips, cheeks or body. The formula when applied dries to give a smudge proof and waterproof finish and gives your looks and glamour an extra boost with the natural glow. Check here.
2. Tattoo Junkee Chroma Lip Effect's Grunge Lip Color
Junkie hustle lover girls out there? Tattoo Junkee is for you so that you play harder and look good with your rebel spirit. Chroma Lip Effect's Grunge Lip Color comes with a matte gray liquid in a container which gives you dark and shiny shade lips with the purple chronic effects. These are smudge proof with long lasting liquid lipsticks which gives you 2 in 1 look with an extra iridescent sparkle effect.
3. Molly Cosmetics Sapphire Glitter Metallic
Molly Cosmetic's Sapphire Glitter Metallic lipstick is a Matte liquid which feels featherweight but is intense and very vivid. They have a smooth and ultra-matte finish texture which makes you look even more attractive. These are long-lasting, smudge proof and kissable. You do not need to apply a second layer as they last quite long. For even more staying effect avoid greasy food intake.
4. KA'OIR Red Golden Goddess
Though we loved all the shades of KA'OIR, it was challenging to suggest one of them, but the Golden Goddess GlitzStick caught our eyes. This lipstick can get you the glittery lips of your dreams. All the other shades are worth buying. KA'OIR provides you a set which contains a lipstick and a separate shiny powder pack where you get the option of applying only the lipstick or both.
5. Too Faced Unicorn Tears
This lipstick changes its color through the day and gives you a perfect unicorn vibe that would make you and others fall in love with it. You can experience iridescent, color changing magic all day. The available color options are beautiful and can be put on alone or with any other color. Your lips will get smoother and stay all day with a soft and moisturized feeling.
6. Jouer Long-Wear Lip Topper
Long-wear lip topper has coconut oil which makes your lips feel weightless and instantly refreshes your lips with moisture leaving behind a shimmer effect to your lips. This lipstick can be wear alone or with the pair with another Long-Wear Lip Creme. This cheap lipstick is long lasting than most another standard gloss topper. The company Jouer gives away it's 20% of the net proceeds to UNICEF for a good cause which is appreciable.
7.  Mac Cosmetics Lipstick Patrick Starr
This is a special edition lipstick which comes in three hues and two texture. The shades are creamy, gorgeous and are long-lasting lipstick. These are neither too light nor too bright hence form a perfect matte shade making you look gorgeous and a lot more attractive with sparkling lips.
8.  Stargazer Glitter Fushia Glitter Lipstick
Sparkling cosmetic glitter is impregnated with the hyperpigmented Stargazer lipsticks. The strong pigment color of the lipstick has a glittery, shimmering finish on the lips that is very easy to wear, easy to apply and long-lasting. Their different glitter shades make you more bold, stylish and trendy.
9. Stila Glitterati Lip Top Coat
This mega-sparkle top coat is designed to wear a matte liquid lipstick. This glitter contains ultra-fine pearls thus makes it washable with water and leave behind the original matte color with a high wattage and sparkle finish. This is smudge proof, kissable and leaves your lips moisturized.
10. Fenty Beauty Galaxy Collection by Rihanna
This is a limited edition glitter lip gloss that gives an ultimate triple shades, glitter, and shine. It is the triple-threat fusion of glitter, pigment, and gloss with sparkles that takes your beauty to astronomical new heights. Each hue has an iridescent glitter which gives the mirror-like shine of shimmer in a single swipe. This is Rihanna's first-holiday collection called The Galaxy Collection.
11. Urban Decay Pink Shimmer Glitter Lipstick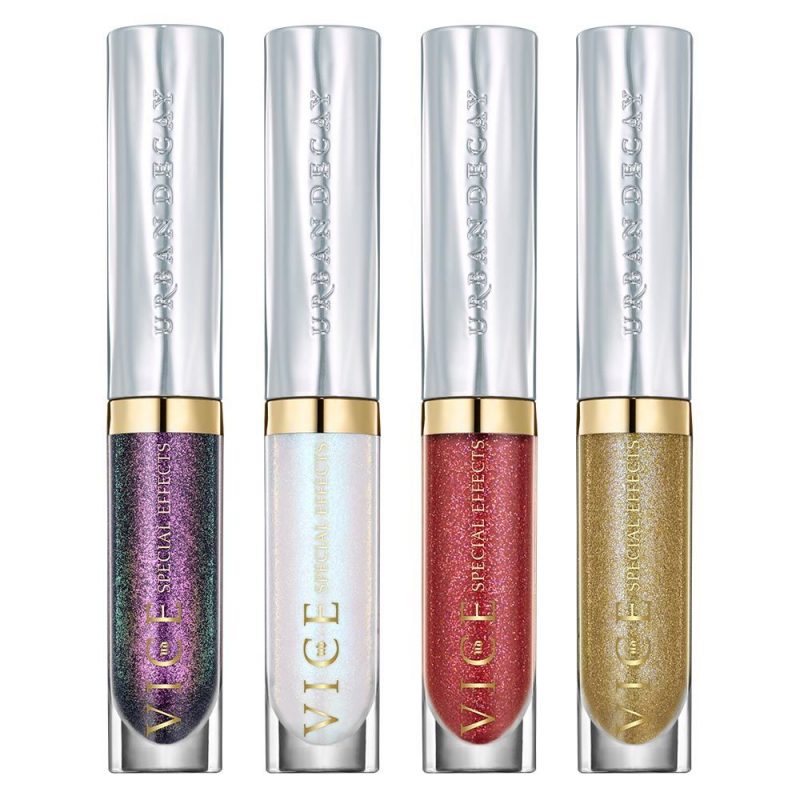 Urban Decay glitter lipsticks have a large array of shades with varying of textures and shimmers. With just one swipe of the lipstick, you can get a perfect lay down of color. The array has six indulgent and addictive shades. These lipsticks can be applied smoothly without any drag or skipping and feel comfortable on lips which leave your lips hydrated, soft and enhanced. It contains aloe vera, jojoba, avocado and babassu oils which nourishes and softens your lips.
12. Glitter Lips by Beauty Boulevard
This lipstick has been voted the best Glitter Lipstick in United Kingdome according to Amazon. These premium glitter lipstick have 19 more stunning different shade from deepest reds to the lightest nudes. These are long-lasting glitter lipsticks and are water and smudge proof.