Nourishment is the key to the glowing and healthy skin. Fall and winter are the roughest seasons that lay hold of that needed nourishment leaving your skin dry that eventually make you look dull and old. The battle becomes even tougher if you have sensitive skin. Sometimes even those chemically laden lotions and face moisturizing creams don't act as much of a help. Before you run for them, did you check out your kitchen once where you can find natural face moisturizer?
Choosing a natural face moisturizer that does not have chemicals or artificial ingredients is beneficial for your skin in the longer run. You can make a natural moisturizer from the foods present in your pantry and get a glowing and a soft skin. Daily application of a natural face moisturizer can help you retain the suppleness and youth of your skin. Nourish your skin during cold seasons and throughout the year using these best natural face moisturizer.
Know Your Skin Type Before Making Organic Moisturizer
Homemade natural face moisturizers are the best as they give you maximum results and no side effects. They do not contain any harmful chemicals or parabens when you rustle up a moisturizer recipe at home. Raw honey is an effective moisturizer. For oily skin, dry skin, normal or combination skin, natural face moisturizers work best. You can apply honey directly or mix it with a few drops of water and apply it on the skin. Leave it on for a few minutes and rinse it off with lukewarm water. You can also mix it with rose water, tea tree oil, or shea butter for better results.
8 Best Natural Face Moisturizers for All Skin Types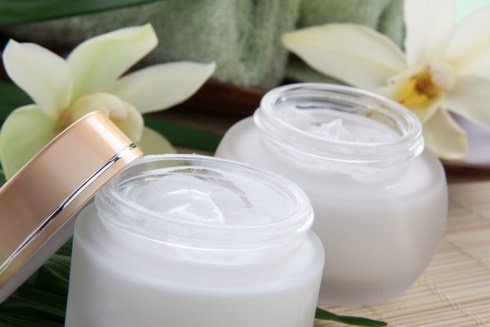 1. Coconut Oil
Applying coconut oil on skin has multiple benefits. It not only treats the dry skin but also soothes irritation caused by eczema, psoriasis, and other skin ailments. Using coconut oil is one of the simplest remedies to make moisturizer at home. To make an organic face moisturizer at home with coconut oil, take ½ cup of coconut oil, 1 tablespoon of Vitamin E oil, and 5 to 6 drops of lavender essential oil. Mix them well and apply to your face and dry areas. Store it in a jar and apply daily.
2. Aloe Vera Leaf/Gel
It is a natural face moisturizer and the pulp from Aloe Vera Leaf can be applied directly to the skin. Aloe Vera gel can also be used along with other ingredients to make a face mask or organic moisturizer. Aloe Vera contains minerals, enzymes, vitamins like, A, B12, C, and E, folic acid, and antioxidants that keep the skin free from ailments and moisturized for long.
3. Avocado Mash
Make a creamy homemade natural face moisturizer with avocado, lime juice, and olive oil and store it in a jar for daily use. Remove the peel of avocado and mash the pulp. To this add, juice of half orange, 1 tablespoon lemon juice, and a dash of olive oil. Mix all the ingredients well to make a natural face lotion. It hydrates the skin deeply and keeps it moisturized eliminating age problems of the skin.
4. Rosehip Seed Oil – Natural Face Moisturizer
Rosehip seed oil is antioxidants rich and keeps the skin supple and hydrated. It also firms and tones the skin. You can also massage the skin with this oil and remove wrinkles and fine lines. Rosehip seed oil is a natural face moisturizer and is Vitamin A rich, which promotes healthy cellular activity inside the skin. This is one of the best natural face moisturizers.
5. Mango, Shea, and Cocoa Butter for Smoother Skin
Shea butter can be used in combination with oils and fruit pulp that contain vitamin C and E to make a natural face moisturizer. It especially helps in eliminating dry skin problems. You can directly apply this natural face moisturizer to the face and get benefits of a smoother skin. Using shea butter also helps in retaining the natural oils of the skin.
Cocoa butter is easier to slather on the skin as it gets absorbed quickly into the skin leaving a non-greasy look. Melt the cocoa butter and apply it to the skin regularly to see quicker results. You can also use mango butter directly onto the skin and massage the skin with it daily or on alternate days.
6. Cucumber Juice Moisturizer
Make natural face moisturizer with cucumber juice, 2 oz. of carrier oil, and 8 oz. of paraffin wax. Puree 1 large cucumber, melt the paraffin wax, and add the carrier oil, mix well until forms consistency. Apply this natural face moisturizer for smoother and blemish free skin during all seasons. Once applied, you can also leave it overnight and rinse it off in the morning.
7. Essential Oils for Skin
To make natural face moisturizer using essential oils, add 1 ounce of carrot seed oil to 1 ounce of shea butter and 3 ounces of argan oil. To this add, 5 drops of lemongrass oil, 10 drops of lavender essential oil, and 6 drops of chamomile oil. Add shea butter and argan oil in a bowl and place it in warm water.
After the butter melts add carrot seed oil and the rest of the essential oils and blend. Never heat shea butter directly and use a double boiler to melt butter. You can use this natural face moisturizer daily for excellent results.
8. Milk Cream and Buttermilk
Milk cream nourishes and hydrates the skin and keeps it healthy. A single application of milk cream gets absorbed into the skin quickly and keeps it nourishes for a longer period of time. You can also apply buttermilk, leave it on for a few minute and rinse it with lukewarm water.
One of the biggest advantages of creating a face moisturizer at home using natural ingredients is that you will be using the one that suits your skin type. Natural moisturizers lubricate the skin and provide fatty acids that are essential to keep the skin healthy and young.
You can make natural face moisturizer using easily available ingredients which won't cost you much and apply them daily. You can also apply buttermilk, olive oil, castor oil, and cucumbers directly to moisturize your skin. Using natural moisturizers made from products available in your kitchen can prevent damage that can be caused to your skin by free radicals. You can also use glycerin and rose water, blend it and apply it to face. Using a natural moisturizer daily can protect your skin from toxins and pollution in the environment from damaging your skin.