An opaque liquid used to line the lash line of your eyes is called a liquid eyeliner. The application of a liquid eyeliner often seems like a simple task but, as you pick the brush and begin the process, the hurdles seem pretty clear.
A shivering hand and a wrinkled lash line are as scary as it can get especially if you are a beginner. So, let's ease this process for you and help you enhance the beauty of your eyes by providing them with a clear application of the liquid eyeliner. Visit www.lashbombsalon.com if you're looking for an eyebrow lamination kit that has great reviews and achieves what it says it will.
So, the first and foremost thing before you start the process of application of any beauty product is to keep your face clean, washed and hydrated. After clearing face, you can follow the steps mentioned below to apply liquid eyeliner like a pro.
How to Apply Liquid Eyeliner Perfectly?
1. Make Use of Primer
Choose the product according to your skin type, also to make the liner last longer use a primer which will help in preparing your eyelids for the application of the eyeliner and will also help the eyeliner to stay put for a longer period.
After this select your liner, as liquid liners come in two variants, which are
a) Felt tip eyeliners: Those liners which look like markers and works as a sketch pen with a soft nib.
b) Brush eyeliners: The liners which have a liquid content along with an applicator brush which is attached to the cap of the container containing the liquid.
You can choose the product which you will be more comfortable in using. If not sure then as a beginner try both to find the one best suited to your way of application. Also, try and pick the product which is smudge proof and waterproof to avoid any mess.
2. Bring your Hands in Control
For beginners, the first thing that needs to be brought under control is shivering or shaky hands. As this will make the line uneven and messy which instead of adding to your appeal will make your eyes look dull and unattractive. The best advice to avoid this is to rest your elbow on a hard surface for the first few attempts. This helps in providing some balance and reduces the shakiness to a certain extent.
3. How to Hold the Brush?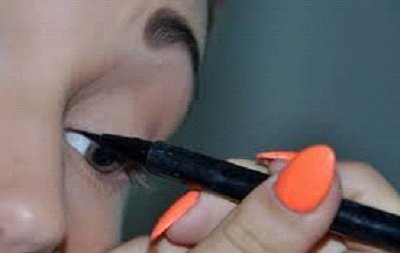 In order to achieve a perfectly covered application with no unattractive bumps make sure you keep brush flat and do not try to outline directly in one go. Patience is the key to anything even for your eyes to look their best.
4. Where to Start?
Many bloggers will advise you to start from the outer corner of the eye, but stay at ease and begin from the center of the lash line. Make small dashes towards the outer edge. Slowly glide over these dashes still holding your brush flat to make an even line from the center to the outer corner of your eyes.
If you plan to apply a winged liner, extend the dashed line beyond the outer corner going diagonally upwards from the lower lash line and smoothly join it to form a perfect wing.
5. Filling the Inner Corner of your Eyes
Now that the outer corner is lined take your brush and slowly extends the center line using thin dashes towards the inner corner.
These tips were all about the application on the upper lash line but, many times you would wish to add the extra to your look. The perfect way to do it is by adding a bold eye to finish your look. To get bold eyes don't hesitate in applying some liner on your lower lash line. Start from the outer corner of your eye and smoothly drag the brush towards the inner corners. Try to keep your hand steady for best results.
A pro tip will be the fact that whether bold and intense or just a simple line on upper lash line are both incomplete without perfect lashes. Just take an ooze of mascara on the brush and coat your lashes with ample amount to give them a thick and luscious appearance. For a party look you can add falsies, but, even then one or two coats of mascara are the demand of the hour to merge your lashes with the falsies for that perfectly attractive look.
So, by now you know how to apply liquid eyeliner correctly and probably have tried out as well. Now give it enough time to dry as it may create a mess otherwise. So what are you waiting for? Go try these tips and soon you will be a pro at adding the appeal and attraction to your already perfect and beautiful eyes.