Beauty & Wellness
13 Best Skin Cleanser and Face Wash 2017: Face Washes for Every Skin Type
Not everyone is blessed with flawless low maintenance skin; most of us have to work at it. Cleaning your skin is the fundamental step of the skin care regime we follow. Washing the face is a skin care ritual which I assume everyone does the same way. We do this practice in the morning to look energized and in the evening to remove the pore-clogging makeup, dirt, and excessive oil. Now when everyone does it the same way, why is that we pick different face wash? After all, they all have the same purpose, right?
As I said, not all of us have good skin, the similar way we all have different types of skin that need to be treated differently. Especially dry and oily skin can be a little high maintenance. Each face wash has a different formula made to for specific skin type, and honestly, we shouldn't ignore the fact. I myself have an extremely dry skin, and I most definitely wouldn't want to pick a face wash for oily skin which leaves my face like the Sahara desert.
Hence, I have included few best herbal face washes as well along with the normal ones in the list, so this list has got something for everyone. Read on to find out what suits your skin type and which one you should pick.
1. Forest Essential Saffron and Neem Face Cleanser – Best Face Wash for Sensitive Skin
Since the ancient times, saffron has always been used as an integral ingredient in formulations for flawless skin and lighter skin tone.While on the other side, Neem, for deep cleansing and curing skin impurities. This natural face cleanser is a combination of both the ingredients and works best for oily to combination skin. It doesn't dry out the skin and leaves a natural glow instantly.
Undoubtedly, the price is on a bit higher side but trust me it is going to be a worthy purchase. Take very small amount on wet skin to cleanse the skin and rinse with regular water. If you are looking for an effective yet mild face wash, this is probably one of the best face wash for sensitive skin.
2. Neutrogena Deep Clean Foaming Cleanser – Best Face Wash for Oily Skin
This cleanser is well suited for Oily to combination skin but can be used for all skin types. Neutrogena Deep Clean Foaming Cleanser is paraben, SLS, and soap free, hence, it not just cleanses your skin, but keeps it hydrated, fresh, unclog pores and helps remove dust and impurities. This formula leathers to a rich, creamy consistency which removes excess oil, dirt, makeup. These skin impurities are one of the main reason that causes acne later on.
Though it is the best face wash for oily skin, however, it doesn't help in getting rid of acne or prevents further acne formation.
3. 
Biotique Bio Honey Gel Refreshing Foaming Face Cleanser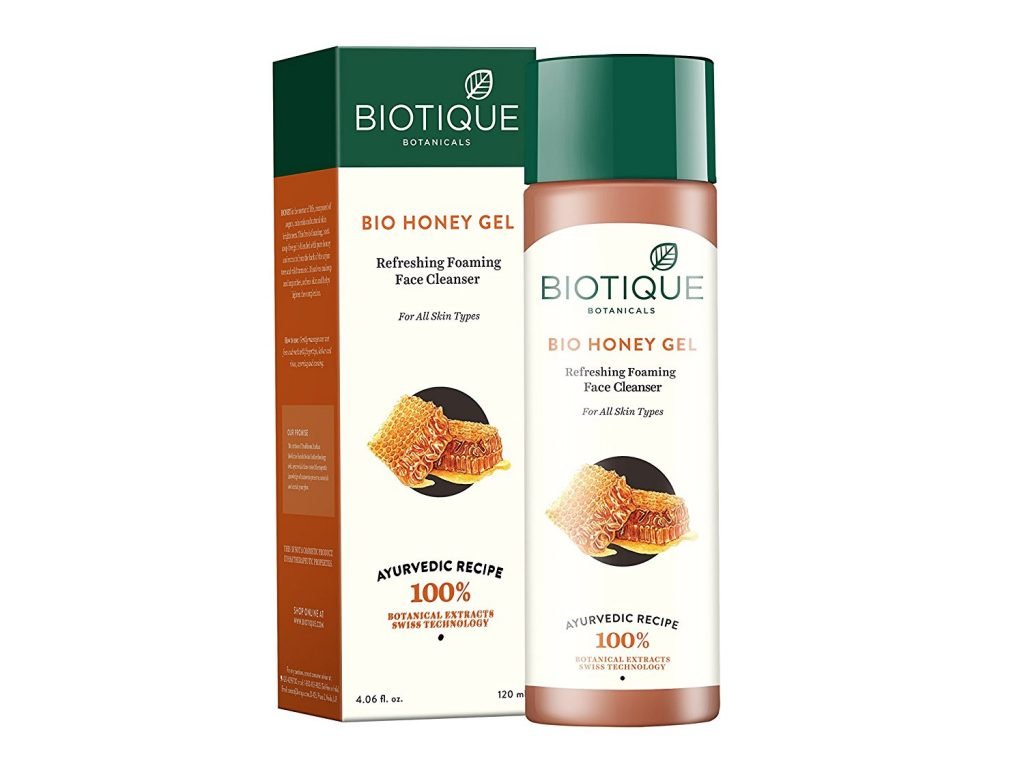 This herbal face wash that is formulated from Ayurvedic ingredients such as honey, extracts from the Arjun tree, wild turmeric and euphoria plant. Biotique Bio Honey Gel face wash is soap free that helps your skin retain the glow and moisture. This face wash removes dead cells, hydrates your skin, leaving a supple and soft skin behind. 
This natural face wash works best for oily to combination skin. If you are someone who has a dry skin, this product might not give the best result to you.
4. Kama Ayurveda Face Cleanser with Essential Oils – Face Wash for Dry Skin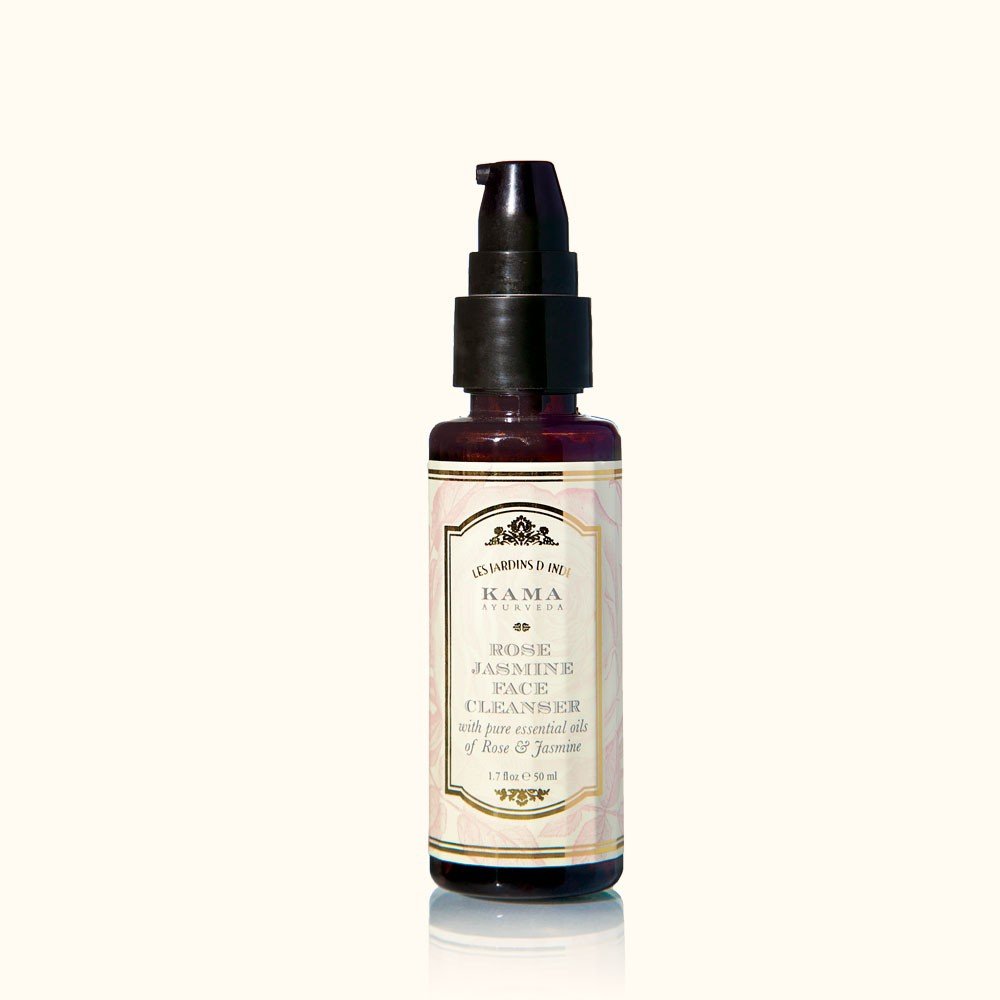 I am a fan of Ayurveda and I prefer using natural face washes over others. Therefore, I would definitely recommend this rejuvenating face wash from Kama Ayurveda. This non-comedogenic cleanser is completely soap free, contains salicylic acid and suits oily skin well. It infuses pure essential oil of rose and jasmine which leaves a soft, hydrated, youthful and moisturized skin behind. Aloe-vera extract heals and smoothens skin, vetiver root acts as an anti-bacterial agent to avoid further breakouts from makeup.
This is a face wash which can be used for all skin types including sensitive skin as well.
5. The Face Shop Rice Bran All-In-One Cleanser
Probably some of you might not have heard about The Face Shop, it is a South Korean skincare brand that provides beauty product lineup for skincare ritual. This herbal face cleanser from The Face Shop is an all-in-one cleansing solution. The milky consistency contains rice bran that prevents skin from drying. This formula has rice, rice bran, almond, apricot and red beans, thus, effective enough to remove even the most stubborn debris and makeup from the skin's surface.
It is an excellent exfoliator+face cleanser+makeup remover for everyday skincare regime and works well with all skin types.
6. The Body Shop Tea Tree Skin Clearing Facial Wash
I am a sucker for products that incorporate tea tree essentials, therefore, this has to be in the list of my favorite face cleansers. Being true to its name it is a natural alternative for blemishes prone skin as tea tree oil combats existing blemishes and controls oil. The Body Shop Tea Tree Face Wash is completely chemical free, clears skin without drying out and works well for oily skin.
7. 
Lakme Absolute Perfect Radiance Skin Lightening Facewash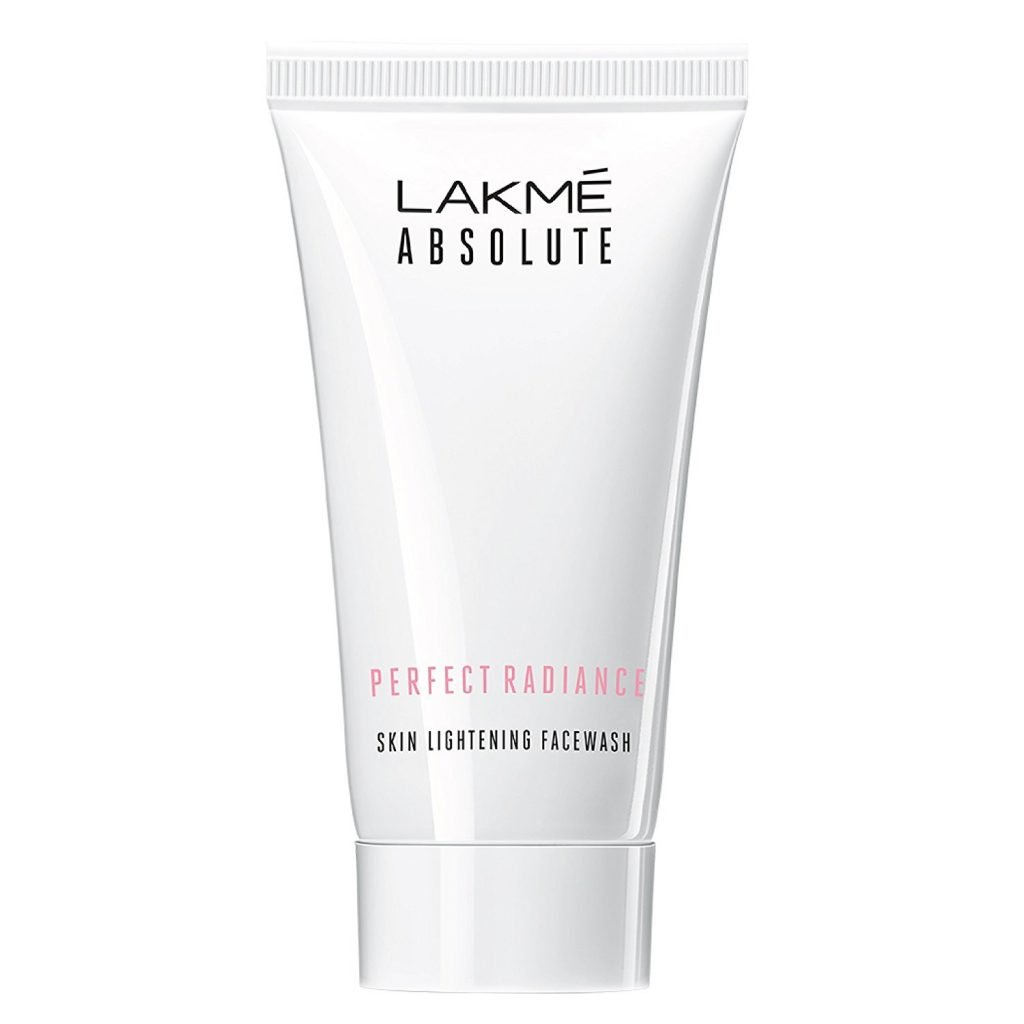 This face wash is an intense whitening formula which has smooth and soft consistency is non-drying and light on the skin. The skin brightness formula penetrates deeply into the skin and gives instant pearl like radiance. It fights 6 blocks of skin lightness – uneven skin tone, oiliness, tanning, dullness, dark spots, and blemishes. Although it is suitable for all skin types, however, works best for oily skin.
8. Fabindia Avocado Face Wash
Looking for an immensely gentle and pure face wash that melts down all your skin impurities? You may find it in this Fabindia Avocado Face Wash which is entirely herbal with natural extracts of avocado. It is gentle on skin, hydrating and good for all skin types.
9. Just Herbs Silksplash Neem-Orange Rehydrant Face Wash
By the time you have probably realized my love for natural and herbal face washes. It is loaded with the natural goodness of neem, orange, sandalwood, and honey. Neem helps getting rid of skin impurities, sandalwood moisturizes the skin and is anti-inflammatory in nature, orange deeply nourishes skin leaving the sense of freshness for long. This herbal face wash is free from paraben and suits well oily skin.
10. Nyassa Tea Tree Face Wash
Nyassa is a brand known for creating bath and body products from best of natural ingredients. This natural face wash works well for the individuals having combination to oily skin. Green tea being one of the best face cleansers makes this one even more effective. Nyassa Tea Tree Face Wash has minty scent make for an extra deep cleansing while making the skin firm and plum.
First, it is natural and chemical free, second tea tree oil having medicinal and healing properties two folds the effectiveness. This face wash is one of the best face wash for normal skin.
11. Khadi Rose Herbal Face Wash
I am a big fan of this classic cleanser from Khadi India because neither it's not too harsh nor it dries out the skin. It doesn't have reactive ingredients in it so even the most sensitive skin types can use this herbal face wash. Rose has some powerful anti-oxidants which repair the skin breakouts. The pleasant formulation of natural ingredients removes excess oily residue from your skin. This is one of the best face wash for dry skin I have tried out so far.
12. Ponds Anti-Pollution Face Wash – Best Charcoal Face Wash
Has your skin become so lifeless after facing the wrath of dust and pollution? Ponds here backs you up with its anti-pollution face wash which is infused with active ingredients to get a flawless and radiant skin. It contains activated carbon which absorbs pollution particles and impurities and returns skin's life. This face wash not just squeezes clogged dirt and grime but also removes dead skin layer.
It is one of the best face wash for combination skin and works even better during summer.
13. 
Cetaphil Gentle Skin Cleanser
Oily, sensitive or flaky skin(like me) are hardest to maintain resulting a lot of trouble when shopping for makeup/skincare. Now, Cetaphil Gentle Skin Cleanser is something I have been waiting like forever! Once a skin care specialist recommended it to me and now I am a sucker for this skin cleanser. It has the fragrance free formula which doesn't lather at all and is gentle enough for even most sensitive skin. This fragrance-free formula moisturizes skin without leaving the residue that can clog pores later, which makes it a great value all around.
This is the best face wash for acne prone skin, however, works well for every skin type. I would definitely recommend this face wash.