Travel
11 Best Travel Apps for iOS and Android – 2017 Travel Guide
Who needs travel agents when you have top travel apps to make your vacation smooth. Mobile technology is taking over almost everything, and nowadays you can plan your next trip from your smartphone only. Choosing a right travel app can be as confusing as deciding where to stay. I have explored the web through the dozens of free travel apps for iOS and Android available. And here I've got the best travel apps you'd like to install while you head out to explore a new place.
1. TripAdvisor
TripAdvisor is a multi-function app when it comes to travel. You can quickly browse through millions of reviews, photos, and experiences related to your travel destination or hotels, flights and more. You get answers to your specific queries in the forum and discover the cool things to do in any destination you have planned.
2. Splittr
Most of us are still not bitten by solo traveling bug hence prefer traveling with friends. Splittr is a simple platform to share costs between friends and saves us from the hectic aftermath. You simply have to enter the expenses as you go, who paid it when and where. By the end of the trip, Splittr will tell you who owes whom how much and you can also generate a self-explanatory PDF which you can email to your friends as well. Bonus point here is it supports all currencies and you can even mix them.
3. XE Currency
Not just for easy currency conversion but for lots of business oriented feature, this application is the one to choose. XE Currency gives you not only live exchange rates but it also functions offline by saving the last updated rates. Hence, quite useful when your internet connection acts tricky.
4. Google Translate
Stuck in a country with a language barrier? When it comes to translation this application cannot be dethroned. Many times you are at a place where people don't speak English and you're not good with their native language for obvious reasons. You just simply hold the camera up to any text or sign or a menu, Google will translate it for you. Also, there's a feature which allows you to translate 52 languages when you're offline. Hence, it's a must have application and comes in handy every time you come across a new language. This is by far one of the best travel apps which every traveler must download.
5. Citymapper
What is the need another navigation app when you already have Google Maps? Well, to my surprise I found it comprehensive and easy to use when used. It offers detailed information that you need to have to plan your journey. Citymapper is one of the best travel apps to find public transport as it shows you real time departures, delay alerts and has integrated Uber facility and cycle routes. As of now, it is available in around 30 cities worldwide.
6. Skyscanner
Hate keeping different apps for flights, car rentals, and hotel bookings? Skyscanner is there to back you up as your pocket travel agent. Skyscanner search flights, hotels, and cars via its travel partners and furnish some affordable and best options for you. You also get price drop alerts for the saved dates.
7. Airbnb – Most Used Best Travel Apps
Bored of staying in monotonous hotel rooms without a sense of belongingness to the place? Airbnb has now become a household name among frequent travelers. First, you get accommodation at far cheaper prices than hotel rooms and second, you get an authentic world class experience by staying with a local or their homestays. This is one of the best travel apps one can have on their smartphone.
8. Uber
Undoubtedly, Uber is the global kind among various cab applications. It is widely active in approximately 77 countries and 527 cities. You get options of riding alone, in pool and luxury ride as well. Tracking driver is very easy as it shows the real-time location of the driver. The best part is you can securely pay your fare using credit/debit cards- no cash required.
9. SAS Survival Guide Lite
Stuck? With no amenities near you? SAS Survival Guide Lite is the free version of the complete SAS Survival Guide written by a former SAS soldier and instructor, John "Lofty" Wiseman. The application provides you a guide to the wilderness survival. This guide contains the basic survival tips from building fire, finding water to checking your health. This application is the perfect survival kit for you if you are bitten by adventure bug.
10. AroundMe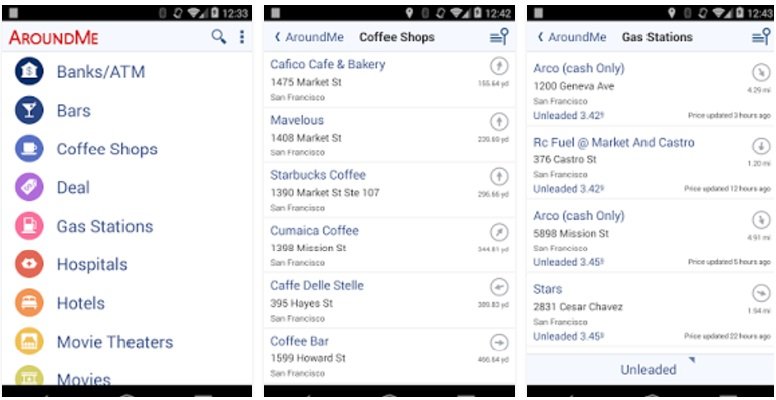 Are you at new city or country and not aware of the nearest useful places around you? Then let AroundMe do this job for you. AroundMe identifies your current location and allows you to choose the nearest gas stations, hotels, restaurants, lounges, theaters, supermarket, hospital etc. It shows you a complete list of all the businesses in the category you have tapped on along with the distance from where you are.
11. Evernote
Evernote allows you to take notes in a variety of formats such as audio, video, web clippings, PDFs, texts etc. It uses the camera to scan all sort of documents including printed documents, business cards etc. It also syncs everything automatically across your computer, smartphone, and tablet thus very practical for storing documents, ID copies, and tickets.
Unless noted, aforesaid all the best travel apps are free and available for both iOS and Android platforms. These travel apps might perform the similar task as of other available options but it all comes down to our personal experiences.