Beauty & Wellness
How to Get Rid of Dandruff with Baking Soda? Remove Dandruff Naturally
How to Get Rid of Dandruff with Baking Soda
Dandruff is a most widespread problem that is being faced by a notable number of people across the world. Getting up in the morning and seeing those flakes all over your pillow wouldn't be a pleasant morning.
The same with wearing dark clothes and spotting white flakes falling all over your shoulder. This is something really embarrassing, and probably you would want to get rid of dandruff in one wash.
Your kitchen holds the key to a flake free and itch-free scalp. Some trivial ingredients that you use in household every day doubles as effective dandruff home remedies.
Although I have tried few best dandruff shampoos, DIY home remedies always appeal me as they are natural. I am writing my experience here as baking soda substantially reduced my dandruff since the first application.
Baking soda benefits are not just confined to dandruff treatment; it also has many other households cleaning and hygiene uses. Being touted as a cheaper dandruff treatment alternative, baking soda is one of the best home remedies to treat dandruff. But how to use baking soda for dandruff? Read on to know how you can treat dandruff with baking soda.
Home Remedies to Get Rid of Dandruff with Baking Soda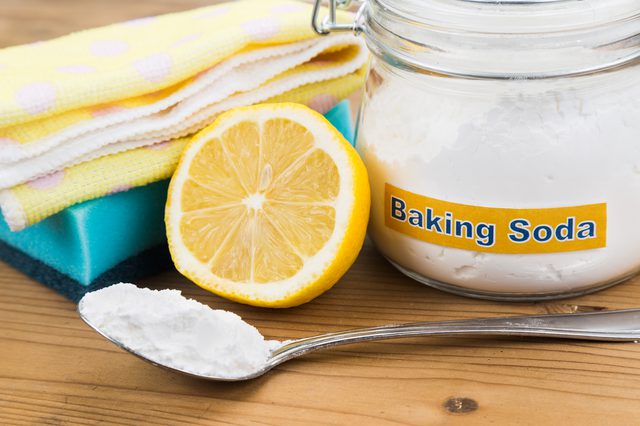 1. Lemon Juice and Baking Soda for Dandruff
You don't have to go further than your refrigerator to cure dandruff. Lemon's natural acidic and astringent properties help balance the pH level of your scalp and kill the fungus which is the main reason that causes dandruff. While baking soda being a natural antiseptic treats the fungal infection that is causing dandruff.
How to use it?
Mix 2 tablespoons of lemon juice and a half teaspoon of baking soda. Make a paste until form consistency and apply on the scalp. Massage your head gently with your fingers and leave it for 30 minutes. Rinse your hair with cold water, avoid shampooing though.
2. Water with Baking Soda to Treat Dandruff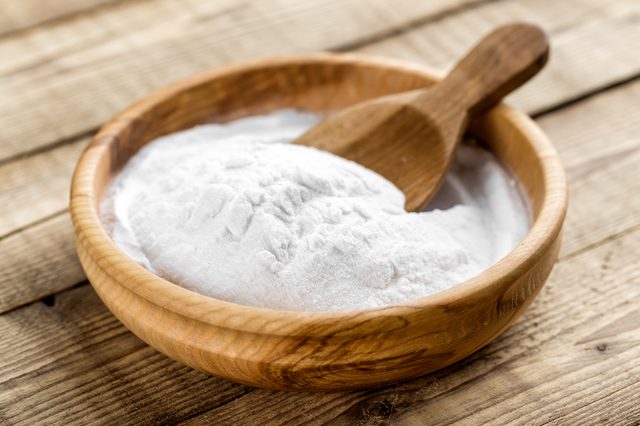 The natural cleansing nature of baking soda exfoliates the dead skin cells and other impurities that cause itchy scalp. It might make your hair dry at first, but eventually, your scalp will start producing natural oils. After a few usage, your hair will be softer and free of flakes.
How to use it?
This is the easiest method of treating dandruff using baking soda. Take one and a half teaspoon of baking soda and mix it with water to make a thin paste. Apply the mixture on scalp and massage with your fingertips in the circular motion for 2-3 minutes. Wash your hair with normal water. Repeat this process twice a week for better and noticeable results.
3. Yogurt and Baking Soda to Remove Dandruff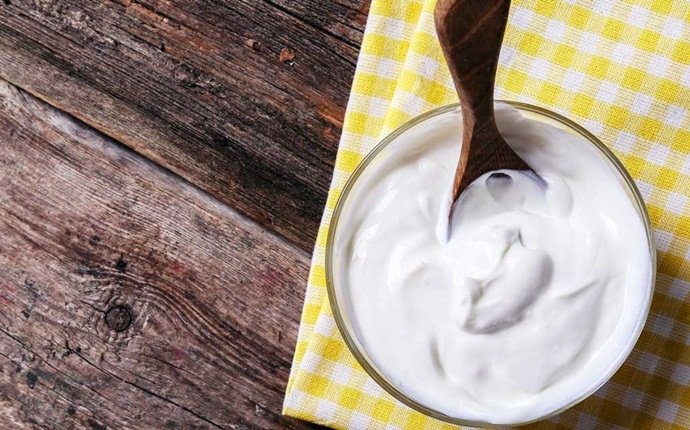 The curd is rich in proteins and vitamin B5 which are beneficial for hair. Protein content moisturizes hair while keeping dandruff at bay. Moreover, the antibacterial agents present in curd reduce itchiness and irritation of the scalp. Adding baking soda to it twofold the impact and help in healing dandruff much quicker. This dandruff home remedy not only cures dandruff but also improve hair texture.
How to use it?
Take yogurt in a bowl according to your hair length. Add a tablespoon of baking soda, mix it well and apply the paste all over your scalp including strands as well. Massage for about 5 minutes and allow it to rest on your scalp at least for an hour. Rinse it off with regular water and use mild anti-dandruff shampoo.
4. Baking Soda with Apple Cider Vinegar for Dandruff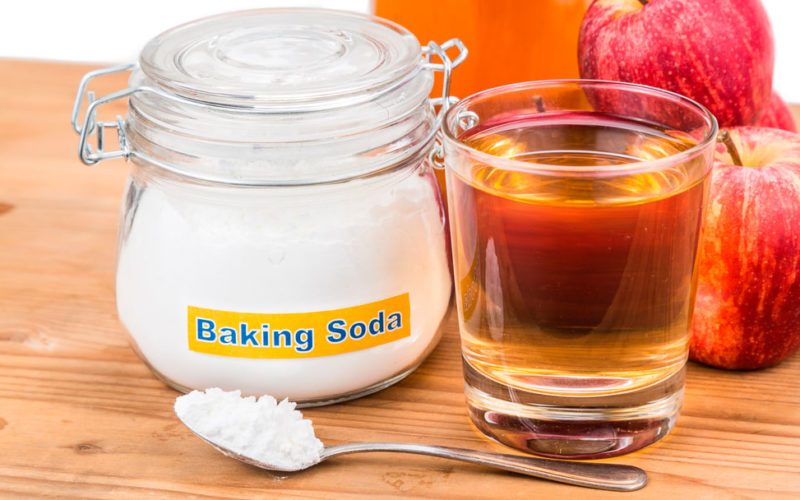 Apple cider has been considered as one of the best natural ingredients to get rid of dandruff due to its antibacterial properties. It comes loaded with natural probiotics which not only efficiently kills the fungus and bacteria that causes dandruff but also prevents dandruff's reoccurrence.
Also, it doesn't consist of any chemicals. Thus regular use will not cause any harm to hair and scalp. Combining it with baking soda not only treats scalp issues but also balances pH levels to prevent infections.
How to use it?
Mix the two ingredients until form a fine paste-like consistency. Apply it on the scalp and massage it as a scrub to remove flakes from the roots. Let it sit for about 30 minutes on your scalp and rinse your hair with regular water. Repeat the process 3 times in a week to notice the improvement.
5. Coconut Oil with Baking Soda to Cure Dandruff
Coconut oil is rich in vitamins and fatty acids which nourishes the scalp and stops the build-up of sebum. Its anti-fungal properties and highly nutritious content make it one of the best home remedies to get rid of dandruff and a great anti-dandruff hair oil. It can also be used with baking soda to fight dandruff.
How to use it?
Take lukewarm coconut oil into a bowl and add a teaspoon of baking soda. Mix it well and apply the mixture to your scalp while massaging gently. Allow it to sit for about an hour and shampoo your hair post that.
6. Baking Soda, Olive Oil, and Egg Yolk for Dandruff Treatment
Olive oil and egg yolk both have nourishing nature that treats rough scalp and provides shine to hair without making them dry. Mixing baking soda with these ingredients can be very effective as baking soda removes the access oil and grime, olive oil, on the other hand, nourishes the scalp and locks in moisture.
How to use it?
Take slightly warm olive oil in a bowl, add 1 tablespoon of baking soda and 1 egg yolk into it. Mix it well till it forms a foam-like consistency. Apply the mixture all over the scalp and let it sit for about 30 minutes. Rinse it off with lukewarm water and pat dry your hair. Repeat the process 3 times a week to observe the noticeable difference.
Take Away
Above-mentioned quick home remedies not only treat dandruff but also provides nourishment and improve hair growth and health. However, while trying out these ways to get rid of dandruff, one must be patient enough as changes don't happen overnight. None of the cure works like magic. Hence, you will need to be consistent to see the improvements in the longer run.