Beauty & Wellness
Best Shampoo for Hair Fall – Top 10 Anti-Hair Fall Shampoos in India
Hello, Lovelies! How have you been doing? If you ask me, I have been putting efforts to save my locks. It is not just me who have faced this issue. Hair fall has always been a severe problem and one of the biggest beauty concern for a huge part of the population. Reason for hair fall may be your sedentary lifestyle, the diet you are following, lack of protein, vitamin deficiency, stress or the very common – hereditary.
Why Hair Loss Shampoo?
Most of us usually don't get time to make and use home remedies for hair fall because of our hectic schedules. Although, I am a person who mostly relies on home remedies, however, sometimes my work schedule doesn't allow me to go that way. And then comes hair loss products and anti-hair loss shampoo to rescue.
There are millions of products available in the market claiming to reduce hair fall, however, choosing the best among them can be quite a tedious task I tell you. Herbal shampoos for hair fall being free from side effects are also very popular for their effectiveness. Hair fall doesn't discriminate among men and women, therefore, here is a list of best anti-hair fall shampoos which can be used by both.
 Best 10 Anti-Hair Fall Shampoos Available in India
1. Biotique Bio Kelp Protein Shampoo for Hair Fall
Biotique is another brand known for blending authentic Ayurveda with cutting-edge biotechnology. This hair fall shampoo has been crafted from peppermint oil, natural proteins, neem, and bhringraj. It does more than making thin hair appear fuller—it also works to prevents your hair from falling out in the first place. This shampoo is very affordable if you look at the benefits.
Price: ₹ 224 for 400 ml
2. VICHY – Shampoo for Thinning Hair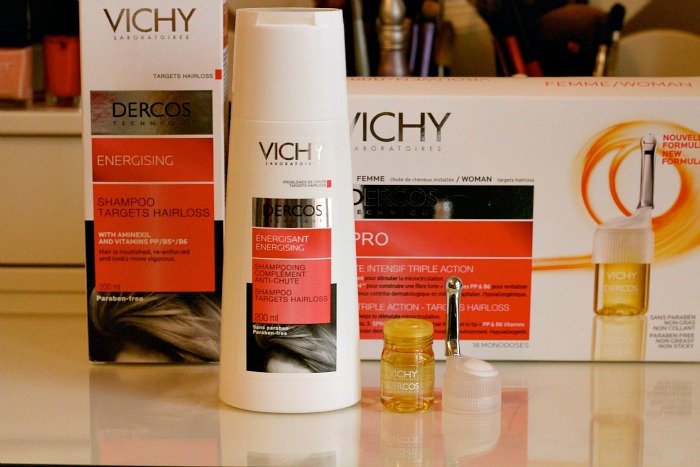 Image Source: www.yourbeauty.ie
Another favorite comes straight from the house of VICHY. If you are someone who is suffering from baldness and extreme hair fall, then this is the hair growth shampoo you need to buy. It has a patented anti-hair fall molecule which prevents the collagen strengthening process and retains elasticity around hair roots.
This process allows hair to anchor itself more comprehensively in the scalp resulting reduced hair fall. VICHY energizing shampoo is a paraben-free shampoo, makes hair stronger from root to tips, therefore, a boon for damaged hair. This is by far one of the best anti-hair fall shampoos available in the market.
Price: ₹ 2,499 for 100 ml
3. Himalaya Herbals Anti Hair Fall Shampoos
This shampoo has more natural essence than chemicals whereas most shampoos are loaded with chemicals like Sodium Laureth Sulphate, Paraben and Polyethylene Glycol. Best part, this shampoo is sodium lauryl sulfate free and works best for all the hair types. That makes it one of the best shampoo for thinning hair and an effective hair loss product for someone who diligently avoids chemicals.
Price: ₹ 307 for 700 ml
4. Schwarzkopf Gliss Hair Repair with Oil Elixir
This is the budget offering from a professional premium cosmetic brand – Schwarzkopf. The shampoo comes with oil elixir and liquid keratin that works best for rough and coarse hair. It restores hair's texture, strengthens anti-hair breakage and leaves them smooth and soft. This shampoo has moisturizing properties which keep hair tangle free and manageable.
Price: ₹ 248 for 250 ml
5. Kama Ayurveda Lavender Patchouli Hair Cleanser
Give your chemically oppressed hair a break with Kama Ayurveda's hair cleanser. Unlike other shampoos that are overloaded with chemicals, this cleanser revitalizes the lost moisture by restoring the needed nutrients in your scalp. This mild hair cleanser comes with hibiscus and pure essential oils of patchouli. Apply this cleanser to wet hair, massage well and wash with normal water. Kama Ayurveda Cleanser naturally nourishes and protects hair while cleansing.
Price: ₹ 595 for 200 ml
6. 
WOW Apple Cider Vinegar Shampoo
No matter what hair type you have, apple cider vinegar has a place in your hair care regime. WOW Apple Cider Vinegar hair fall shampoo contains a gentle and natural detox formula that helps in building up damaged and stressed locks.
The acetic acid in apple cider vinegar is a potent antimicrobial which can kill bacteria and fungus, common underlying causes of dandruff and hair loss, making it a fantastic natural cure. This herbal shampoo for hair fall is entirely paraben and sulfate free boon for your damaged tresses.
Price: ₹ 399 for 300 ml
7. Forest Essentials Hair Cleanser – Shampoo for Hair Thinning
Yet another one of my favorite hair loss product! From the house of Forest Essentials, this is an ideal solution that prevents hair thinning, hair loss and breakage. Bhringraj promotes hair growth and reduces hair fall which makes it perfect hair growth shampoo. Shikakai infusion helps to control dandruff and promotes hair growth.
This solution doesn't lather much, cleanses the scalp gently without hurting pH balance. Take a small amount of the cleanser, apply to wet hair, massage well for a couple of minutes to circulate the blood flow, and rinse with regular water.
Price: ₹ 1,175 for 200 ml
8. Khadi Honey Shampoo – Best Herbal Anti-Hair Fall Shampoos
Khadi Honey Shampoo is enriched with mild and natural moisturizers and conditioners like honey, milk cream, Aloe, Chironji, Jojoba, and Hibiscus. It keeps hair soft, silky, well-moisturized and in good condition. For those who keep themselves away from chemical laden shampoos, this is purely natural and organic that makes it one of the best anti-hair fall shampoo available in the market. 
Price: ₹ 150 for 210 ml
9. Aloe Veda Anti Hair Fall Shampoo
This anti-hair fall shampoo from Aloe Veda contains rosemary oil, aloe vera and lavender oil. It is completely paraben and sulphate free, the shampoo claims to reduce hair fall while making your hair more silky, smooth and strong. Aloe vera heals the scalp while keeping it moisturized. The calming and soothing fragrance of pure essential oils, improves blood circulation, relieves stress and in turn helps control hair loss, as insomnia, stress, depression are among the common causes of hair fall.
Price: ₹ 260 for 200 ml
10. Schwarzkopf Professional Repair Rescue Shampoo
This amazing anti-hair loss shampoo contains proteolipid which is a combination of hydrolyzed keratin and lipid components. This formula restores the protective layer of virgin hair and feeds your hair with the required healthy remedy. This is one of the best anti-hair fall shampoos available in the market as it helps you enhance the quality of your hair by reducing hair fall and breakage.
The Cell Perfector Technology provides additional care – repairing the hair by filling structural gaps, restoring elasticity and imparting deep shine throughout.
Price: ₹582 for 250 ml