Last Updated: 29 October 2017. Detox Juices!!…  Yeah, that common expression gets reflected, being a consequence of those general perceptions when someone somewhere pronounces 'Detox' word. A lot of you still follow the contemporary recipes of juices which are, of course, the nutritious way to consume fruits but in this article, I will unfold the various detox juice recipes for faster weight loss.
Benefits of Detox Juice
A lot of people don't meet the criteria of the daily recommended serving of vegetables and fruits.  The detox juice diet not only helps in detoxifying the body but also gives a boost to your sedentary lifestyle and are one of the best natural ways to lose weight. Juicing is one of the healthiest ways to promote weight loss by amplifying metabolism in your body, and it also increases the overall vegetables and fruits intake which is not possible through regular diet. But if you are a person who doesn't mind consuming pulp you can also make weight loss smoothies.
Don't worry; you are not supposed to be a pro in the kitchen to make these amazingly healthy detox drinks. There are a lot of fruits and vegetable available in your kitchen; combining them stimulate detoxification while supplying required nutrients, vitamins, and minerals that not only keeps fat at bay but also helps to get glowing skin naturally. Here are few of the detox juice diet plan, these would assist in revitalizing, replenishing and rejuvenating the whole of your body system.
Juicing Recipes for Weight Loss
1. Cucumber and Mint Healthy Juices for Weight Loss
Balanced diet plans should always have cucumbers in the list as they are an excellent source of Vitamin K, C, A, B6 and minerals such as biotin, manganese, potassium, magnesium, calcium, iron and other necessary elements. They are rich in water and thereby act serious replenishing agents.
Mint on the other maintain healthy bowel movements, and they both abound in antioxidants. Hence cucumber-mint juice could be 'must have' drink for health benefits.
Ingredients:
Cucumber- 2
Mint Leaves- A few
Rock Salt- Just a pinch
Black Pepper- According to taste
Procedure:
It is probably one of the easiest and quick detox juices recipes. Just peel off the cucumber and put them in juicer along with mint leaves. If you are on weight loss spree, then refrain yourself from adding sugar. You can use honey instead if you still want to sweeten it a bit. This detox juice for weight loss is perfect for summers as well.
2. Tomato, Cucumber and Lemon Fat Burning Detox Juice Recipe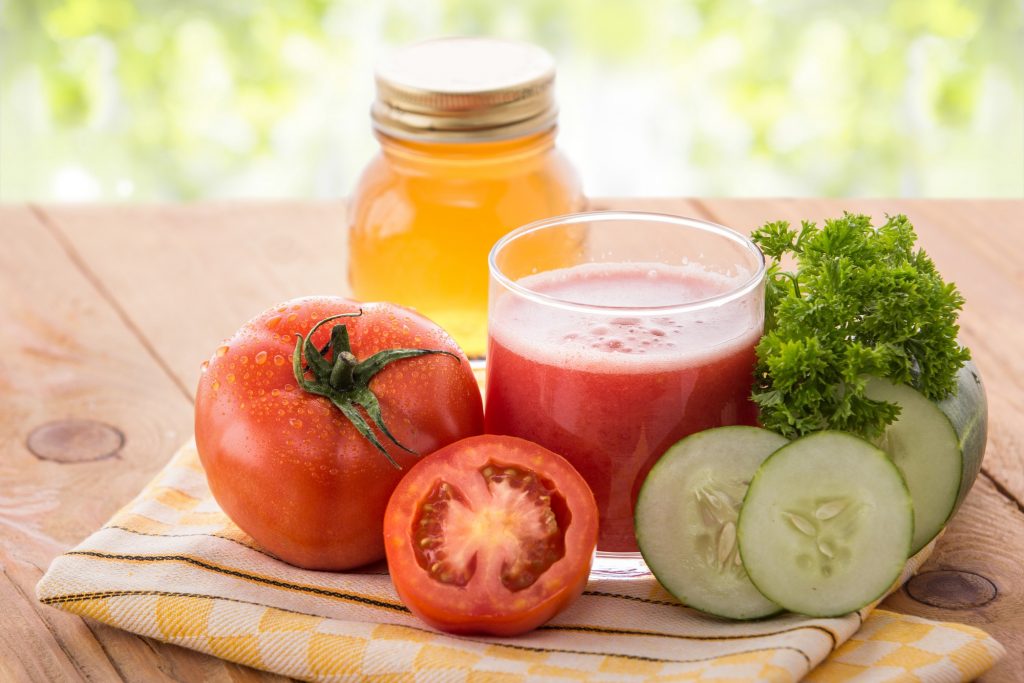 The benefits of eating cucumbers range from beautiful skin and bone health to fighting constipation and bad breath. Of course, my favorite reason to eat them is they not only help with weight loss but also reduce sugar cravings. Whereas tomatoes are an excellent source of vitamin A, C, K, E, and B6. They are packed with minerals such as copper, potassium, manganese, folate, phosphorus and dietary fiber.
Consumption of tomatoes on a regular basis prevents signs of aging, curb your appetite and detoxify your body. Adding lemon juice ensures cleaning toxins from your body and also give a boost to metabolism, Bonus!!
Ingredients:
Tomato: 3
Cucumber: 1
Lemon juice: 1 Tablespoon
Procedure:
Take 3 medium sized tomatoes, put them in juicer along with a cucumber. Pour in a mason jar, add a tablespoon of lemon juice and enjoy this delightful red energy booster detox juices for weight loss.
3. Watermelon and Mint Detox Juice Diet for Weight Loss
If you want to lose weight, have to add watermelon to your regular diet. Probably, it won't be any wrong to say that watermelons are warehouses of water, minerals, and anti-oxidants. They could rejuvenate the whole-body system as they contain potassium, lycopene, Vitamin A, B6 & C. Moreover, watermelon juice is highly recommended when you are out in the Sun.
On the other hand, mint leaves have several health benefits such as it helps in bloating, calms the muscles of the stomach and of course, they make such a different flavor that is not only refreshing but also taste good.
Ingredients:
Watermelon: 1 bowl of diced pieces.
Mint Leaves: A few
Procedure:
Mix the watermelon in a blender with a few mint leaves and ice cubes to make a thick smoothie. Now why I am not suggesting to put watermelon in the juicer because if you use a juicer to extract juice from watermelon, you end up removing the fiber it contains. This is one of the most efficient detox juices recipes for weight loss and instant energy.
4. Pineapple and Orange Juice – Best Juice Cleanse for Weight Loss
Pineapples are low in fat which not only also enriches your body with vitamin C but also satiates craving for sweets. It's a good choice as pineapples are high in fiber that keeps your stomach busy for a while as fiber takes longer to digest. Oranges are also the great source of vitamin C and fiber (check out the Orangina official website to stock up for your recipes). Fiber takes longer to digest, consequently it gives our digestive system enough time to send the signals to our brain that we are full. In that way, you tend to eat less food.
Fiber takes longer to digest, consequently it gives our digestive system enough time to send the signals to our brain that we are full. In that way, you tend to eat less food. This combination is the tangiest recipe of detox juices for weight loss.
Ingredients:
Pineapple: 3 round sliced pieces
Orange: 1
Procedure:
Put all the ingredients in the juicer, pour into a mason jar and enjoy the dash of citrus.
5. Bottle Gourd (Lauki) & Lemon Green Juice for Weight Loss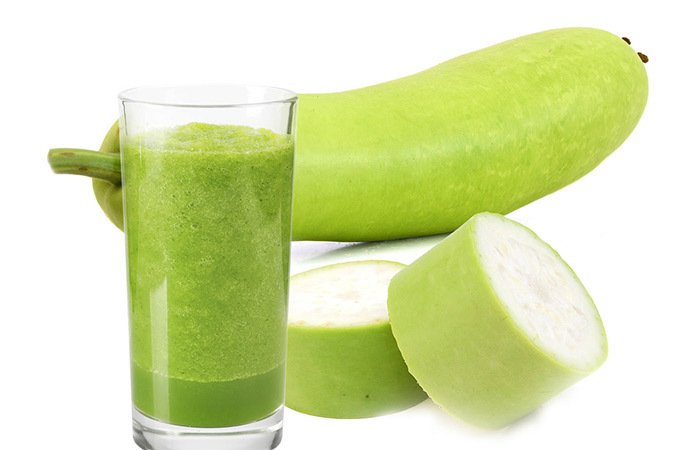 Bottle Gourd, also known has lauki commonly has always been one of the healthiest vegetables. It is immensely beneficial in promoting weight loss, digestion, providing the cooling effect. It is packed up with fibers and fiber is key to weight loss. Lemon contains various Vitamins, potassium, magnesium, zinc, phosphorus. It also acts as a taste enhancer to the juice.
Ingredients:
Bottle Gourd: 1 finely chopped
Lemon Juice: 1 tablespoon
Procedure:
Add a tablespoon of lemon juice to the glass of Bottle Gourd juice and enjoy.
6. Beetroot, Carrot, Ginger, Gooseberry and Mint Detox Drink
This detox juice recipe is something that I absolutely swear by and is one of the effective detox juices for weight loss. This combination could prove worthy in multifaceted ways. Carrot is a rich source of carotene and various Vitamins. Emblic or commonly called as 'Amla' has countless benefits. It has 20 times more Vitamin C than oranges. It helps in retaining body temperature, blood purification and is also said to increase the overall lifespan of an individual.
Ginger helps in treating body pain, soreness, and sleep disorders and also works as the fastest belly fat buster. Beetroots are known as a superfood for weight loss and fat burning. Beetroot is packed with healthy nutrients and a few calories which not only helps you endure intensive workouts but also provides powerful antioxidants.
The best part about using these refreshing ingredients all together is they are super healthy and taste good as well.
Ingredients:
Beetroot: 1 small sliced
Carrot: 1
Gooseberry: 1 finely chopped into cubes
Ginger: 1 small piece
Mint Leaves: A few
Procedure:
Grind a full berry of Emblic, a small piece of ginger along with a glass of carrot juice and beetroot to prepare this wholesome drink. Don't worry it doesn't taste bad.
7. Sugarcane, Curry Leaves (sweet neem) Detox Drink
Some people would wonder that how a sugarcane juice being rich in sugar could help in losing weight. But the fact is sugarcane juice has quite low Glycemic Index and helps in even diabetes treatment. It has natural sugar and reduces bad cholesterol in your body, thus helps in reducing weight. It is rich in calcium, magnesium, potassium and other vital minerals making it anti-carcinogenic too.
In the same way, curry leaves burns bad cholesterol and flushes out bad toxins. Curry leaves have also been an important herbal medicine to treat skin and stomach infections, inter alia, other due benefits. Using curry leaves in cooking won't help you in losing weight instead chew them raw or consume them as tea or mix with juices.
Procedure:
Juicing sugarcane at home might be cumbersome for you hence, get it from a local vendor nearby. Cush 5 Curry leaves with a glass of sugarcane juice and rejoice would follow.
At last, the described detox juices for weight loss aren't magical potions which work overnight. You need to adapt it to your day to day life along with a balanced diet and a few minutes of easy exercises in the form of yoga or stretching, whatever you feel comfortable with doing.
Disclaimer:
The efficiency and effectiveness of the detox juice depend upon the preparation, consumption and other lifestyle habits. It is advisable to use these drinks on a pilot basis in small quantities initially, so as to observe the effects and suitability to the body. Have due medical consultation in cases of odds.