Lifestyle
Best Shades of Brown Hair Color to Flaunt this Summer
Brown hair color is undoubtedly the most trending and the coolest color of the summer. While the shades of red, silver and purple may not suit everybody and soon fall out of fashion, brown hair color is an evergreen hue which will always give you a chic look. Don't get disappointed thinking brown is the only option left for you, because brown is the most versatile of all as there are more than 30 different shades of brown color itself.
However there are ways to color hair naturally at home but with these shades of brown hair color, you can keep experimenting a different look every time. It will not only create a beautiful vibe around you but will also give you an all new fresh look to flaunt this summer. So, let's get started to dazzle everyone around and enhance your fashion quotient with these different shades of the brown hair color.
9 Coolest Brown Hair Color Ideas
1. Ash Brown Hair Color
This color of brown is perfect for those who aspire to have a brunette look. This color sports a cool and ashy tone which when blended well together will give you a unified and glamorous look. Aren't you already tempted with the ash color? Hold your horses, there is more to it. Won't you like to enhance your appearance by complimenting your ash brown hair with smoky eyes? Do that and make the coolest entry into a private party stunning the males around and making the women around jealous.
2. Dark Brown Hair Color
If you have a fair skin tone, this is just the right color for you. One of the most popular of the lot, this color is the safest and mostly goes well with all kinds of looks. How about pairing the dark brown color with the blue or purple undertones? If you want to do something crazy and trendy, try this look and keep everyone guessing how you came up with this idea!
3. Coffee Brown Hair Color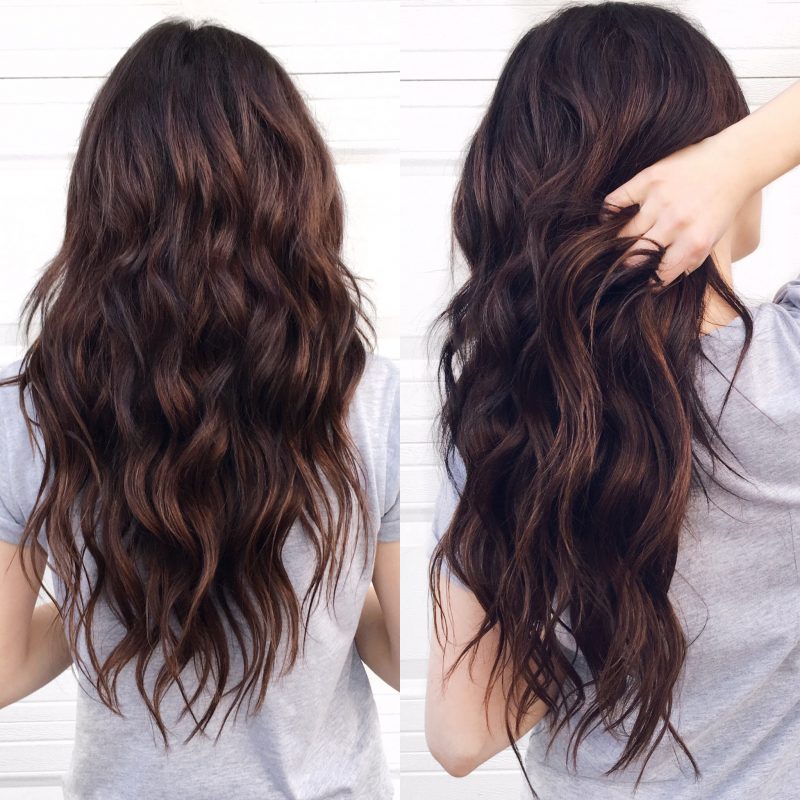 Coffee is so versatile and is always a hit! Be it the drink or the color. Ever considered making the color of your favorite drink the color of your hair? This color will give you a dark and delectable hair texture look. This color works well for those who have a whitish or a slightly dark complexion. You will look dreamy when the subtle or rich coffee highlights will give you a flattering look.
4. Chocolate Brown Hair Color
Doesn't matter if your hair is wavy, straight, or curly! Your hair can be long, medium, or short. Whether the summer has just started or the sun is intense, this color of brown will always look good. This color is quite similar to the dark brown color, yet very different. If you want to flaunt and highlight your newly done chocolate brown tresses, pair it up with putting a blue eyeshadow. The combination looks deadly together.
5. Light Brown Hair Color
The most common and very popular in the youngsters after the blonde, this is a perfect color to sport this summer. It is quite soothing and at the same time enticing to the eyes. This is the color that attracts the eyes of many. If you are a businesswoman, it will surely work well for you as it looks more even smarter with the professional attire. But, what is strange and pleasing is that this color is equally playful too. So, if you are a teenager who mostly dresses in casuals, this color is a perfect fit for you as well.
6. Burgundy Brown Hair Color
This color will always give you a fresh and vibrant look. Burgundy brown hair will look even more appealing in the broad day sunlight. You can also pair it up with ginger brown color streaks, to give you a prettier look. If you are a person having beautiful grey colored eyes, please don't think more and just go with it because this combination can never be wrong.
7. Reddish Brown Hair Color
If you are not confident of giving yourself a bold red colored hair look, then the best alternative for you is the reddish-brown color. It will keep the tone slightly low and you will also be able to enjoy the beauty of red at the same time. It will work for those who have a somewhat dark or medium dark complexion. This color is not so popular and hence will give you a different and unique look.
8. Caramel Brown Hair Color
Caramel shade and summer season goes hand in hand. This shade stands out on all the occasions, whether you are going to a party, going to the office, or you are just planning to go on a vacation. It will add spice and glamor to your look this summer. This color will help you beat the heat.
9. Neutral Brown Hair Color
If you don't want to experiment much and wish to give yourself a subtle look, then this is the color for you. Another benefit of having this color painted is that it will give your hair volume. If you have curly hair, then this shade will suit you even more.
There you go! We've compiled best shades of brown hair color which suits almost every hair type. A small though, maintenance is the key to healthy and shiny locks. Hence, take care of your hair, use branded color protection products to keep the hair color long lasting.