Lifestyle
The Best Online Free Dating Sites and Apps To Find Love in 2017
Gone are the days when you craved to talk to people you had a crush on. When we talk about dating in early times, it was not sorted and all sober. The only way to meet or arrange dates was by personally confirming the timing and place. Earlier, the only way to communicate was through Facebook or Orkut.
It used to start with a friend request and then led to chatting. Then more chatting and one fine day people used to confess their feelings online. Those days were amazing because we always had this an urge to check our social media accounts every now and then.
What about today? Oh! This is an advanced era where an app is enough to solve the majority of your problems. Be it shopping, social networking, or ordering food; you get everything just a few clicks away. We live in an era where even personal diary can come in the form of mobile applications or websites. So why can't date be modernized? So here we have the best online free dating sites where you can find your date as well as dating and relationship advice.
The concept of online dating is not really fresh. People often did a similar thing on social media, but nowadays, there is an exclusive place for it. On social media sites, you were not sure about approaching your crush or the person you like. But since dating apps and dating websites are developed, you know that they are looking for a date too.
But, how do you know if a particular site or app is good for you? Many people fear of pitfalls while using these online dating apps and sites. But here, we will tell you about the best online free dating sites where you can find a compatible match for you.
1. Tinder
Tinder is one of the best online dating sites, and we know it why. It makes sure that your age is above 18 years and you have a Facebook account through which your Tinder can be verified. It is simple, yet one of the most amazing apps through which you can find the best dates for you. As you enable your Tinder account, you will have to write a bio which can be 500 characters long.
You can also link your Tinder account with Instagram and add the information about your employer as well as an academic institution. You can accordingly change your discovery settings through which you decide how you want people to find you on Tinder.
This app will display your name, profile picture, as well as age. You can tap on the image to see more details about the person, and you can also see your mutual friends on Facebook if any. Swiping right means you like the profile and Swiping left means you pass it on. There is an amazing option to swipe upwards which means that you really like them.
If people on both sides swipe right then, there appears a window which shows that you have matched. After that, you can chat with each other. The best part about Tinder is that no one can message you unless you allow them to. Hence, no more spamming in the name of dating. It has got one of the best user interfaces, and you will know it once you enable your Tinder account.
Download Tinder: Android | iOS
2. OkCupid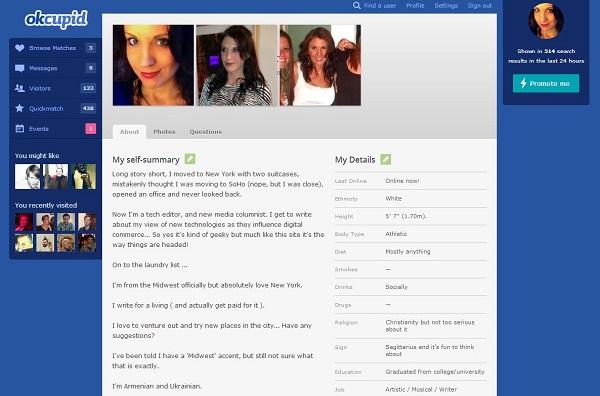 OkCupid is also one of those best online free dating sites where one could find the perfect match for them. This platform is absolutely free to sign up and does not require to be linked to the Facebook account. It has a unique method of matchmaking. You can create your profile by entering long information about yourself. You can answer a particular question and choose what answer you would like to hear from the one seeking your partnership.
If the answers match, a compatibility percentage will be created to give you the right suggestions. You can choose to make your answers public. You like someone and message them in a similar fashion as that of Tinder. If you want to find someone whom you have liked, then it is advised not to click the option that says 'Matches.' Because it shows the possible matches that you can like or select instead of people you have liked.
Yes, this can be a bit confusing. Also, if a person wants to see who has liked them, they should be upgraded to A-list status. If you keep aside the complicated user interface of this app, the best part about this is that you learn a lot more about your potentials partner.
Download OkCupid: Android
3. Match.com
With more than 17 million active users, this website assures safe and sound matchmaking, so you can delete your benaughty.com account. It is a premium service but signing up is absolutely free. You can fill up the long questionnaire and browse your potentials matches. Instead of likes, you are allowed to send winks, and you can get matches for your profile too.
If you want to have a conversation with someone, then you should be upgraded to the premium version. It guarantees no spamming by asking the users to pay premium subscription fees. The happy users have not only shared their successful matchmaking stories, but have also mentioned that Match is a platform where we can find genuine, mature, and serious partners in comparison to others.
Match offers you real partners who are looking for a serious long term relationship. It is for people of all ages who are trying to find love through online free dating sites.
Download Match.com: Android
4. Plenty Of Fish
Plenty Of Fish or POF has a simple matchmaking service on the basis of mutual likes. It is one of the most reliable as well as innovative online free dating sites because the more information you enter about yourself, the higher will be the accuracy of matchmaking on this platform. This online dating app has a unique feature named MeetMe that will help you find the singles in your area that have similar interests as that of yours.
Plenty Of Fish is one of the simplest platforms to find your love. It is totally up to you how you want to find your match. You can browse the potentials partners based on your interest, location, or mutual likes. You do not have to struggle and make unnecessary efforts. The user interface is straightforward, and of course, it is free of cost for use.
People have not only praised its smart service but also appreciated the way in which one can find the match. Many people think that POF has a good number of inactive users, but that is entirely up to mutual likes. One will find his/her right match only when he/she is destined to meet that one person.
Download PlentyOfFish: Android
5. Coffee Meets Bagel
This is also one of the best online dating apps because it has a cute way of matchmaking. Or so people have reviewed it. It is also one of those platforms which approve your account when you link it with Facebook. Once you are ready to take this journey of partner hunting, you can input your preferences. We were talking about its cute way of matchmaking. Regarding that, it sends you one bagel every day.
This bagel is nothing but a potential match based on your input preferences. After you receive a bagel, you are allotted 24 hours to decide whether you like that bagel or you want to pass it on. If you like them and they like you back, then you guys have a chance to connect with each other through the private chat window. The chat window expires after 8 days irrespective of whether you have talked or not.
Also, this app allows you to get some extra beans to upgrade your features. You can earn it by referring it to your friends, or you can purchase the beans by paying some bucks. The platform is one of the best online dating sites only because you can narrow down your preferences based on religious beliefs and ethnicity also. You can upload nine pictures, and you can also have an ice breaker to find a better match.
As soon as you people connect with each other, one of them will be sent to your potential match for the convenience of starting a conversation. This is considered to be real-time matchmaking platform because it creates pressure to know about the person and judge them within 8 days because after that the chat expires.
Download Coffee Meets Bagel: Android
6. Hinge
This is chosen as one of the best online free dating sites because it resembles Tinder in many ways. It has a clean and simple user interface. You can link your Facebook account to see your mutual friends and also know more about that person. Hinge finds connections for you on the various degree of mutualism. It finds a match for you not just based on mutual friends but also likes dislikes, and beliefs.
As we mentioned, it resembles Tinder in many ways. It allows you to have a set of questions through which you can segregate people in a better way. If your answer is positive, then you should swipe right, and if it is negative then you can swipe left. It is as simple as that.
The hinge is one of the best online dating sites because it has a unique feature which lets you know what kind of relationship the other person is looking for. So now you know that it is not just about hooking up someone based on similar interests. You can find a partner based on what type of mindset they have rather than just by reading a description of 500 characters.
You can only add photos from your Facebook or Instagram profile, which limiting as well as safe in nature. This allows you to know more about the person. In case of any doubt, you can always refer to the mutual friends because human touch is always necessary for making better decisions.
Download Hinge: Android
7. Taste buds – Online Free Dating Sites
Having mutual likes in music connects your soul with a person in a way that only you both can understand. Hence, with the help of this concept Tastebuds is developed for matchmaking. And, music is the reason behind this being one of the best online free dating sites to rely upon. Talking about its technical features, you can link the Tastebuds account with your Facebook, and it is completely up to you.
The construction of the profile on the Tastebuds platform can be as detailed as you want it to be. But, the whole thing is centered around a connection based on music. The character limit is quite high for questionnaire-based on music. After starting, you can flick profiles and see the information of various users. You can like a person if you are interested and skip them if not.
You also get the privilege to send a song to a person or message them before or after your match. The overall experience is enjoyable because you can listen to your favorite songs as you scroll through the list of a potential match. The user interface is simple and makes your profile uncomplicated. You can also add pictures from any source, and it is not limited to just Facebook photos.
Wrap-Up
Therefore, after closely looking at the features of some of the best online free dating sites and apps, we can conclude that matchmaking is no more a cumbersome process. You can willingly choose one of these platforms to look for the love of your life. However, it is always advised to be fair while using these apps so you don't end up in a troubled relationship.
Do not use it for exploiting the emotions of people because these concepts are extremely sensitive. Make sure you use it for the purpose it is developed for. Once you realize the true potential of these online free dating sites, you can find the perfect match for yourself.