Fashion
Autumn winter trends style guide: Best fall dresses and exclusives
Let's admit the fact: Picking up the right fall fashion and perfect fall dresses are the biggest challenge while reshuffling your summer wardrobe. You find it so hard to say goodbye to the golden sunny days and the ease of throwing yourself in summer dresses or beloved bikinis. As the end of summer season quickly approaching, it's officially time to brace yourself pick some appropriate autumn looks.
Styling yourself with fall clothes in the brisk weather can be a tedious job when you see your closet already full of cute summer fashion. However, not every color, accessories and style works best for the autumn fashion.
No matter how antiquated as your fashion calendar may be, I have put together the current fall fashion trends all together in one place. Get the best of fall fashion trends, take an inspiration from celebrity fall outfit ideas and get a head start on your look with these fall dresses.
1. Checked Shirt Fall Dresses – Fall Fashion Trends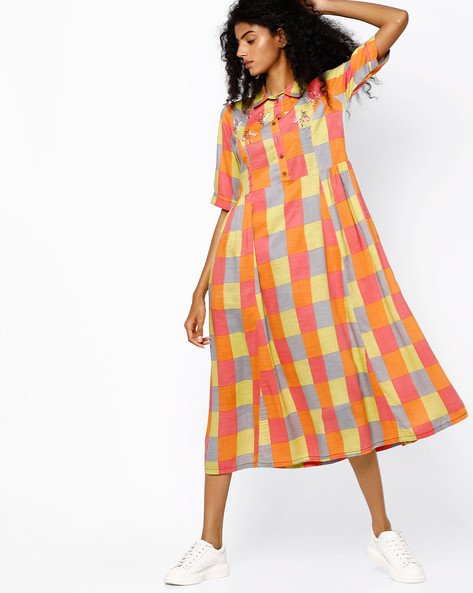 What makes me grab this one right away is the fashioned and vivacious checked pattern, peppy colors and delicate floral embroidery. Step out of your home with chic-comfort this fall season. These sorts of fall outfit ideas can be paired with bohemian accessories and shoes.
2. What to Wear to Work? – Checked Fit and Flared Fall Dresses

Now most of us keep on thinking how not to dress boring to work. Here I am with office wear ideas for this fall season that will save your time thinking what to wear to office. The timeless check pattern is packed with nostalgia yet stylish when it comes to formal looks. Adorned with an all-over check pattern, this captivating fit and flare dress is a class apart that radiates charm and grace. This is by far one of my favorite cute fall outfits this autumn.
3. Flounce Layered Neckline Tassel Trim Aztec Print Autumn Outfit Ideas
If you are a fully-fledged boho-mate, then this fall outfit style will make for easy shopping. Thankfully the street markets and e-commerce websites have plenty of refreshing color combinations. If you are a person who doesn't nod to the latest fashion trends, then I would suggest you try out this autumn outfit which is not only comfortable but also very trendy and stylish.
4. Bardot Flounce Sleeve Flare Dress – Colors to Wear for Fall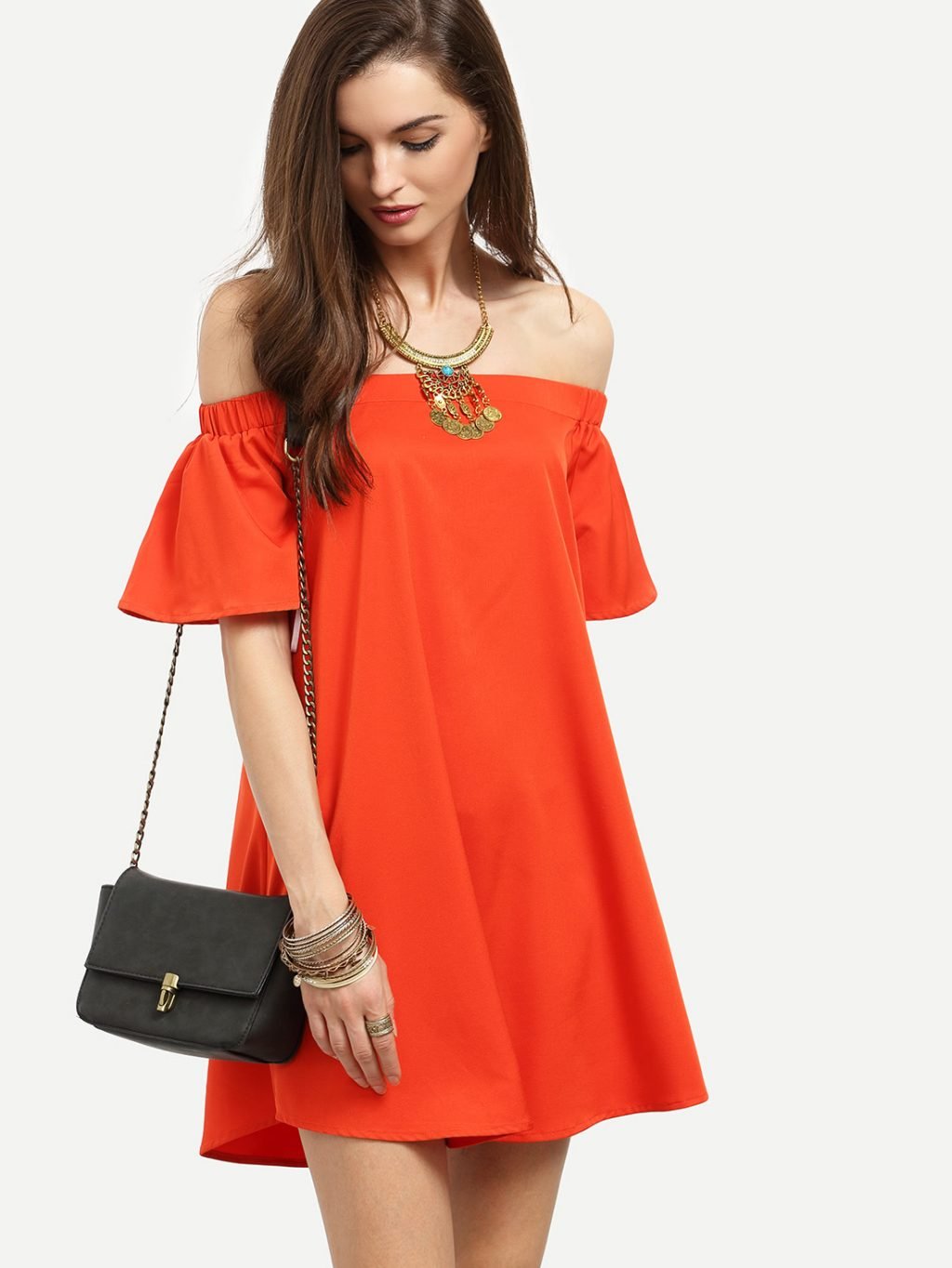 While apparently, you can wear any color you want but orange is one of the best colors to wear for fall. There is no denying that colors for fall are more muted. Nevertheless, I would argue that autumn season offers the best shades to wear. This orange flounce sleeve flare dress is the perfect outfit that can be paired with a trench coat and long boots.
5. Shift Fall Dresses with Bell Sleeves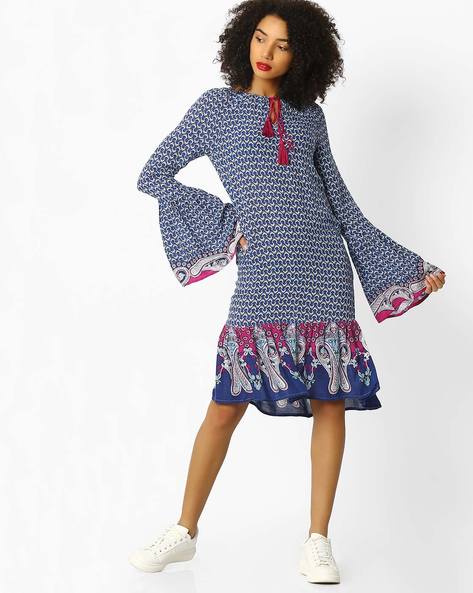 Using a mix of classic fall colors and the Pantone Fall 2017 shades, I am suggesting you a stylish and trendy wardrobe for the upcoming season. Pantone introduced Navy Peony amongst the fall color palette 2017. It is more of an inky neutral next to black. It is no secret that style crowd loves to experiment with their outfits. Hence, here I combined trendy fall color with re-iterating bell sleeves.
Cut for a flattering fit, this shift dress with bell sleeves and a tie-up along the neckline is perfect to fire up the sartorial quotient on a night out.
Autumn fashion inspired tops to buy – Guide to fall fashion trends
1. Mustard Carmela Bell Sleeves Lace Top – Chic Fall Fashion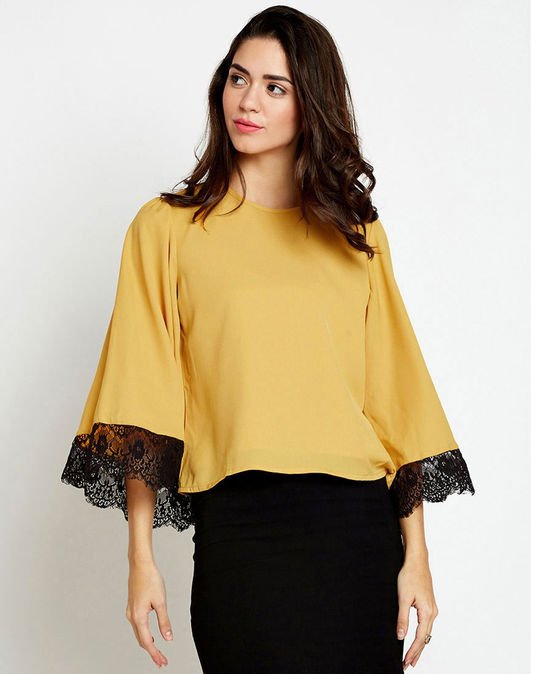 You may have some coolness to your fall color palette which may indicate that you are going to flow into a cooler season. I have always preferred comforting and warming shades though. Mustard and yellow are few of my favorite hues for fall. This georgette bell sleeves top has the warm tone that brings good feelings. It especially looks great as office wear.
2. Port Choker Neck Rochell Bell Sleeve Top – Fall Fashion Trends

It is often said that give a woman red color to wear and she will rock the world. This is not completely red color though but cherry brown bell cuff top will keep your closet radiant. This top has a choker neck, hence, you don't have to sport a choker separately.
3. Multi Striped Lauryn Longline Shrug – Companion for Fall Dresses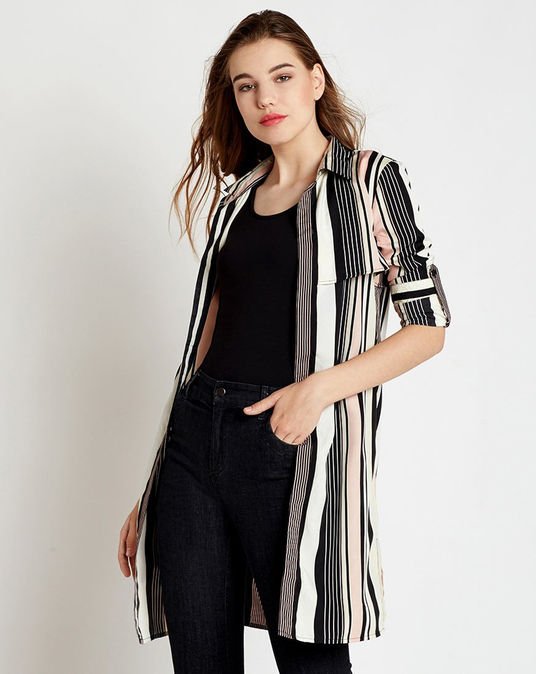 Your casual Fridays will work out for the best when you pair your outfit with this unlined, crepe Multi Stripped Lauryn Longline Shrug. This striped shirt is perfect office wear combined with bell trousers and stilettos. The full sleeves of this shrug can be folded up. You can put any outfit together and top it up with this long cardigan to give your look a more bundled up feel in this fall season.
4. Black Valerie Fur Sleeve Sweatshirt – Autumn Fashion
Be it any season, we never get bored to flaunt that powerful black look. Be it any occasion, whether you go to an official dinner or a casual evening party the black fur top is always hot.It is exactly what the ladies will want to rev up the style quotient. The fashion statement of this black top is further enhanced by its Valerie fur sleeve design.
5. Blue Sylvie Denim Embroidered Top
Put on a ladylike twist on jeggings with an embroidered denim top and look seamlessly into the season. This guide to fall fashion 2017 is incomplete without denim jackets and denim tops, you get here embroidery as a bonus though. Nothing will brighten up a gloomy fall day like a denim bell cut top.
Go Bohemian with Embroidered Jackets – Autumn Winter Trends
1. Colorful Open Front Outerwear With Tribal Print Detail – Bohemian Fall Fashion
Make your regular denim and top bohemian with this gorgeous tribal print shrug. Being fond of quirky prints, I always prefer a mix and match. This outerwear can be paired with any of your plain fall dresses you have or maybe a denim along with crop top. Another way of sporting a long outerwear is to pair it with a pleated midi skirt and rock the Indian festive season.
2. Olive Cargo Summer Jacket – Fashion Denim Jacket
Olive green is already one of the best fall colors and the material makes this fashion jacket perfect for a gloomy afternoon. Whether layered up with a T-shirt and jeans or you are wearing it over a flirty dress in warmer months, the denim fashion jacket is a staple for a reason: It always looks cool.
3. Embroidered Yoke & Cuff Coin Fringe Blouse – Ethnic Fashion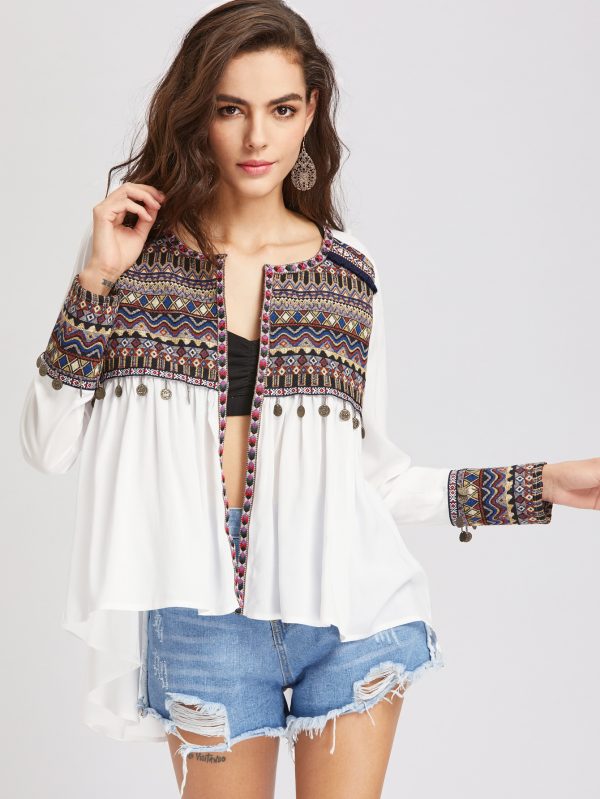 One of the many gorgeous pieces that I came across recently. This embroidered yoke fringe blouse in a beautiful color combination is the style you'll reach for again and again during the fall fashion 2017. You will likely to pair it with a tube top and shorts or denim, sporting some bohemian accessories.
4. Embroidered Flower Patch Tassel Tie Blouse – How to Wear Stripes?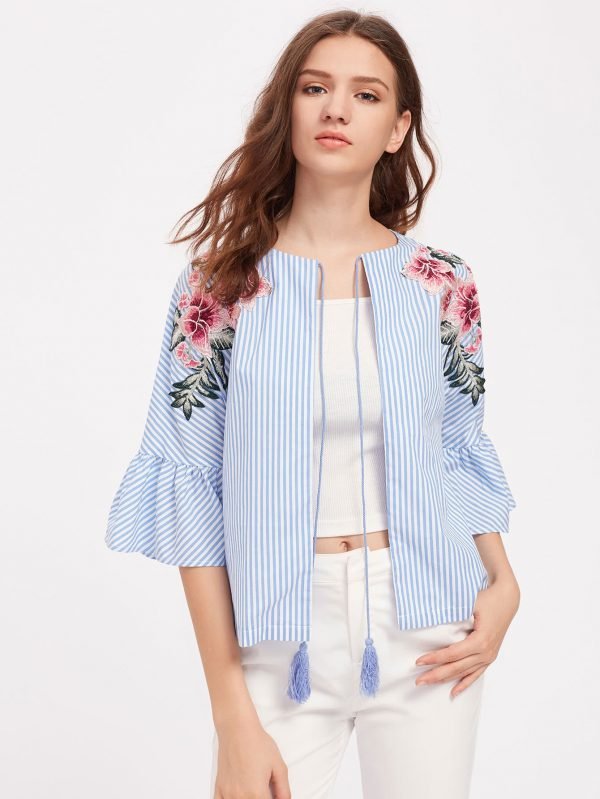 Stripes are always in the style that keeps coming with the variety of experiments. The embroidery done in this gorgeous striped fashion jacket is an attempt to beautify the simplicity and bring more variety of it. This tassel tie blouse can be styled with skater dresses, boyfriend jeans, and frayed shorts. And don't worry about buying into this trend because stripes never go out of fashion.
I have combed out across the web and brought the best fall outfits to you. The list consists of  2018 fall fashion, fall colors to wear, and fall outfit ideas. Explore it and find out which colors, styles, and fall dresses works best for you, also, how to pair them with the coolest accessories.
Not every look must be groundbreaking to you but you can always use things which you already have in your closet. Go for unexpected, don't hold yourself back from trying highly saturated colors this fall season.