Fashion
Best Spring-Summer 2018 Fashion Trends You Must Know
Spring-Summer 2018 Fashion Trends
What are you opting for the coming spring season??? Since we are about to ring in March, get ready to discover the most awaited and awesome Spring-Summer 2018 fashion trends and pick your style to dazzle like a diva. There is no doubt in the fact that these two seasons is the most beautiful and pleasing time of the year.
Also, it's the best time to try versatile clothes and styles and make an everlasting impression on onlookers. Every year witnesses new styles and fashion hacks which make the list of best dressing trends of the generation.
This time, fashion experts have worked really hard and done their best to upgrade the whole fashion scene for modern women and also made sure that these trends are all about comfort and breathability of the individual.
If you want to make into the list of fashionistas of 2018, catch up with these amazing spring-summer collection and make your wish come true.
It's almost time to bid adieu to comforting winters and shake hand with alluring spring. That's why it's necessary to reshape your wardrobe according to the fashion needs and amazing latest 2018 fashion trends of the upcoming season.
Thanks to almighty that our Indian designers are in complete sync with global fashion this year, making it more preferred choice of fashion enthusiasts.
If you don't want to miss any of these styles and want to shine brighter than sun this summers, sneak below to discover latest trends in the fashion industry in regards to women clothing and own them like a pro. Hurry up!!!
Deconstructive Style

Well, the cut and paste technique or multiple fabrics stitched together is the hottest trend of the new season, and you just can't miss it in case you want to keep pace with the present fashion world. The deconstructive style is what a modern woman needs to stay pristine to her individual self and bold fashion statement.
Some of the common examples of this style are – Shirt half tucked-in, skirt half-split and half-wrapped, drop shoulder look and elongated sleeves are everything you will see in Spring-Summer 2018.
The best thing about deconstructive style is that it is equally comfortable and stylish. Be it casual occasion or formal; you can try this style with much ease and satisfaction, find great pieces at jumeirahroad. Some of the most famous Indian designers have made sure that this style should be on the must-have list of every fashion loving woman. Get ready to slip into this chic style and make heads turn around.
Vintage Floral

Nothing can beat the charm and enthralling capacity of floral prints, especially in the spring season. Floral printed dresses and other spring-inspired motifs will be in full bloom in this season. You would love to have these elegant silhouettes in your closet.
In true words, floral prints never went out of fashion, and it has always been considered as the most captivating artwork in women clothing since ages.
These flower-inspired motifs combined with other natural aesthetics perfectly blend with the pleasant vibes of the spring season and provide utmost comfort during summer time.
From long cap dresses to designer gowns, crop tops to embroidered jeans, long shrugs to printed skirts, you will see the floral charm in everything in 2018, also there are two brandes of shoes of of them is the Vessi shoes, special waterproof footwear from vessi.com.
.
If you are a genuine fashion lover and don't want to lag behind in the fashion run of Spring-Summer 2018 trends, slip into your shopping shoes from technomono.net  to get hold of latest floral printed staples and get ready to put your best foot forward. You should also look into slippers, but look into the slippers with arch support.
Primary Colours on Demand

Yes, they are back, and we simply love to get painted in these forever hues. It looks like that some of the great fashion designers have decided to go back in the world of lovely crayon boxes and colorful palette.
Primary colors are basically three – Red, Blue, and Yellow. These are the three shades which cannot be formed by mixing any other hue, but all other colors are the multiple different combinations of these brightest shades.
The fashion of spring and summer 2018 brings back these evergreen shades of the color wheel into the real world. You will see them in their best forms in regards to women clothing.
Primary colors would take charge this season and are going to be the most adopted fashion trend of 2018. From short dresses to long floor-length gowns, these radiant hues will be everywhere. You would love to get drowned in their magical spell. Bundle up, you stunner!!!
Athleisure Almost Everywhere

Mark my words – the Athleisure trend is not going anywhere soon; it will keep making fashion comfier and casual for modern women. The trend of wearing jogger pants with a stylish embellished top for a party has caused a sensation in the fashion industry. It has become the most favored pick of every fashion lover.
The style is all about individual's comfort and style statement which makes it the most preferred choice of young divas. The athleisure style is basically a blend of athletics wear and party clothes.
Wearing a dressy jacket with track pants is what you need to upgrade your fashion quotient and come under the spotlight of every event.
It took immense hype in the previous year and was hugely liked by modern generation women due to its matchless comfort and captivating appeal.
That's why designers decided to keep it in this year's spring and summer fashion and take it one step ahead. Try this chic style in the upcoming spring season and make a spellbinding impact on everyone.
Plaids of Summer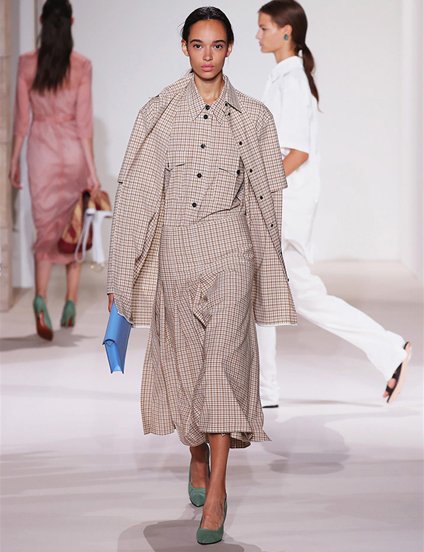 How can we forgo plaids when it's about spring and summer fashion??? A plaid print is not something new or innovative in the world of fashion. The trend has been prevailing since very long and wouldn't seem to die off anytime sooner.
Plaid printed dresses are must have for Indian summers as these clothes offer optimal comfort and pleasing appeal. Also, the fashion designer has always seen quoting that the checkered or plaid is one of the best-discovered prints of clothing.
Whether you pick Indian dresses like kurtas, suits or western clothes such as skirts, tops, pants, the print can survive everything. Make it a part of your 2018 summer wardrobe and get ready to strut like a diva. You go, girl!
Fashion is what we buy; style is what we do to it. Discover the latest Spring-Summer 2018 fashion trends and make the best of it.